First things first. You should know that I'm not a fan of blog sized photos. Clicking on any one of these little pictures will open a better and larger photo in a new window. I like to try and share the big picture so try a few clicks and enjoy the better view. This is more a Greenwich Village guide and another of my walks on The High Line than a photo diary. On a visit to New York you could use this Sunday Odyssey as a tour guide. This is not my first time documenting one of my random neighborhood Sunday walks and it is far less about photography then it seems. These walks are about meeting and greeting some of the other people who live in my city and about learning the back stories of many neighborhoods where I don't actually live. The text winds up becoming a little city sociology, some neighborhood history and a lot of trivia. I like to think of my photos as "Street Photography" without the edge but it's the walking that I enjoy most. Below, besides the fun text, you will find close to 100 pictures from a one day meander. Images of the softer side on New York City from a perfect day for a walk around town. Some of the photos are pretty good, some less so but it is a chronological walk. Some of the stories are pretty good, some less so but the pictures needed a little flavor. ************************************* The visual point of this diary is suppose to be about the shadows of leaves on trees. It is that time of year, the flower pots have had their moment in the sun and then suddenly the trees on the city streets leaf out to interact with the rich earthiness of Greenwich Village.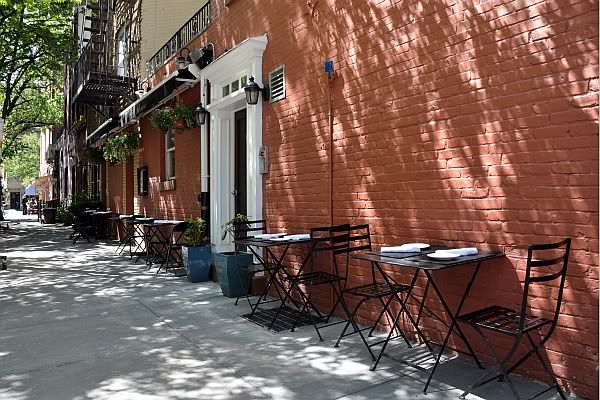 My walks are almost always longer that just one neighborhood. My Sunday story began on 11th Avenue at the 14th Street Park. "Few see it. Fewer chase it. What's Your Wild Rabbit?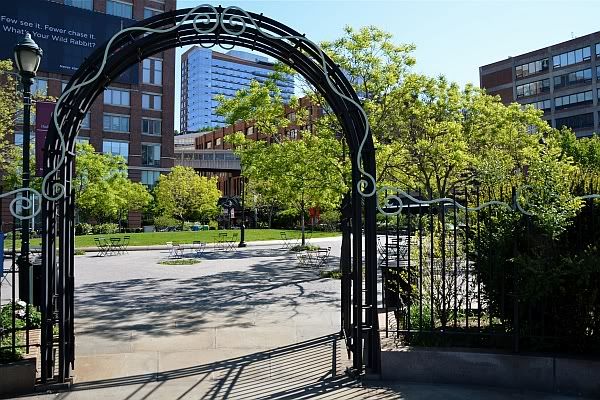 Even the Chelsea Market is quiet on Sunday morning.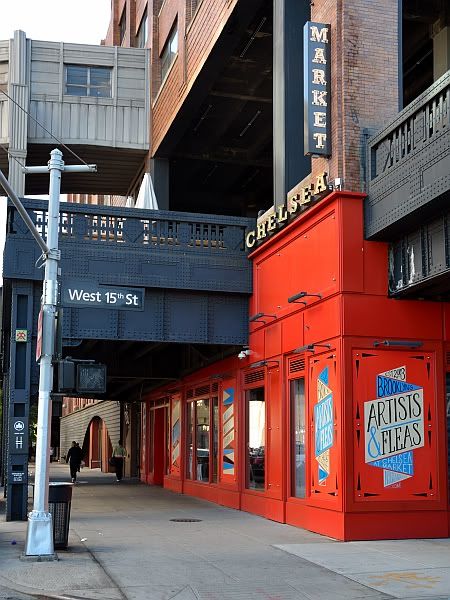 I wonder if this food shopping plaza was as quiet on Sunday mornings back in the day when the same building housed the factory that made Oreo cookies for a hungry nation.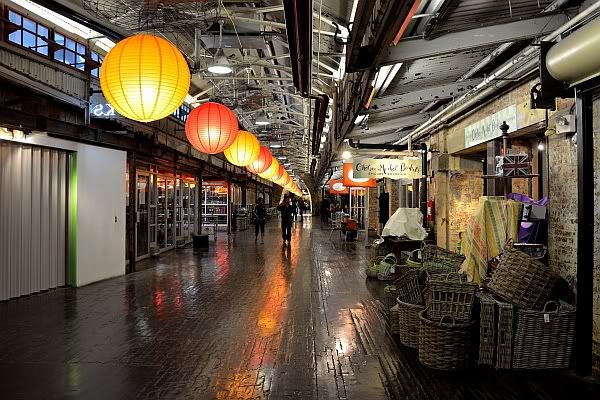 Here's a Chelsea view from mid-April, West 22nd Street and 10th Avenue with just a smidgen of the High Line in the background.
Isack Kousnsky
is the name of the artist who sells his large photograph on the Chelsea sidewalks. Me, I just draw much eclat from a little street scene perspective and some empty chairs.
Even the High Line Park, New York City's newest daytime plaything, seems almost too quiet on a Sunday morning.
Almost like going to church.
The High Line was so empty that I finally found time for a little nature study of New York's garden in the sky.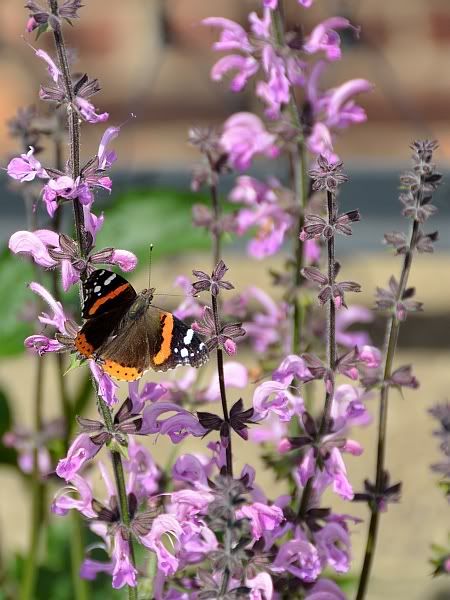 From the southernmost point of the High Line, the view of Gansevoort Street before the party gets started. This "slightly surreal" meat packing strip has seen even more gentrification since the
2001 NYT story about Gansevoort Street
but there was a memorable line
"It is now at least theoretically possible to see someone in Manolo Blahnik pumps step over an overlooked pork chop, en route to dinner in a good restaurant."
Apparently Manolo Blahnik pumps are a big deal here. Telling other people how to live their lives, not so much.
Any MiB fans?
"You can kill us both but you will never find the galaxy."
The exterior can still be found at 69 Gansevoort Street but not the once famous perogies. Maybe designer perogies, who knows?
The photo below is of a building on 14th Street that marks a transition between two worlds. If you look at the top floor window in the corner thinking of the note that ended with
"I don't think two people could have been happier than we have been,"
you might think of a two world inspiration that artist like Stephen Daldry and David Hare embraced. Hardly noticed now in a skyscraper world, this miniature Flatiron that guards Gansevoort Square from a northern invasion, dates back to before the Civil War and has long been called "The Triangle." I can almost imagine horse drawn carriages standing outside the company that built this triangle of red bricks and windows. Long before the butchers took over the neighborhood this building housed a factory for the Herring Safe & Lock Company. The two world transition that this building has long marked for me is the separation between the natural order of things streets below 14th Street and the efficiency of city planner's vision of endless rectangles above. As you probably already know, by the time city planners got around to designing the perfect city, the streets below 14th on the West Side had already become too established to fit into their plans. Today you can walk the length of 14th Street and there are few indications that the city grid does not go below. The Triangle offers a view of a city that "Stops Making Sense" for uptowners and a gateway to beauty for the neighborhood residents.
I can only imagine Gansvoort Square before my time but I do go back to a time when the building was surrounded by men in bloody aprons. I go back to a time when
Dos Caminos
was J's Hangout and the pedestrian traffic was dominated by leather clad cowboys. I remember when a staircase in that building was marked by a sign that claimed "Abandon Hope All Who Enter Here" Those stairs led down to the dungeons of the Hellfire Club. It was once a place where people would go to be tortured, but just for the fun of it. Many years have passed since the city's Health Department padlocked the doors of both establishments for the safety of New Yorkers. The only visual evidence I can find of the club's existence now is in the 1992 thriller
"Single White Female."
I remember the graffiti and the oil cans filled with beef fat that would stink up the cobblestone streets. Truth is, the only reason I recall any of those things fondly is because I was much younger then. The more recent sexual history of the Triangle may have inspired a few movie directors. Many scenes from the 1980 movie
Cruising
where shot there. In 1987 Glen Close's
Fatal Attraction
character lived in an apartment on the 9th Avenue side. But if ever you should see this building, don't think of that short term effect the Triangle has had. Look at that top window in the corner and think of a transition between two worlds, think of
a great book
that inspired
a great movie.
Recall the words "Like that morning, when you walked out of that old house and you were, you were eighteen, and maybe I was nineteen. I was nineteen years old, and I'd never seen anything so beautiful. You, coming out of a glass door in your early morning, still sleepy. Isn't it strange, the most ordinary morning in anybody's life? I'm afraid I can't make it to the party, Clarissa. You've been so good to me, Mrs. Dalloway, I love you. I don't think two people could have been happier than we've been."
Think of the human imagination moving Virginia Wolf into that top floor apartment.
Now that the meatpacking has ended in Gansvoort and there is no longer the slightest chance of someone busting their Manolo Blahnik pumps on an overlooked pork chop I guess I have witnessed a few changes. That neighborhood no longer cuts the meat for the city but you can still find a tasty burger in the Triangle.
The Triangle also guards Greenwich Village from the northern grid addicts. As a photographer I pick the West Village as my favorite walkabout. Often you will think you are going somewhere but find yourself walking in circles. Just like Gansvoort Square this neighborhood has a long history, once the upscale suburb of New York City, you can find expensive apartments that were once made a fine home for horse and buggy.
The corner of Greenwich and Horatio Street. I've sort of got an Edward Hopper thing going on here.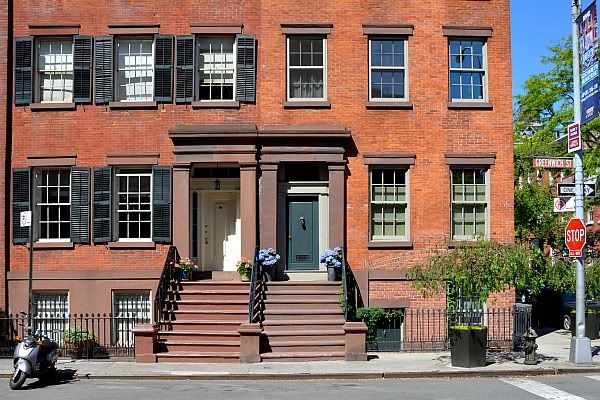 It's all a matter of perspective.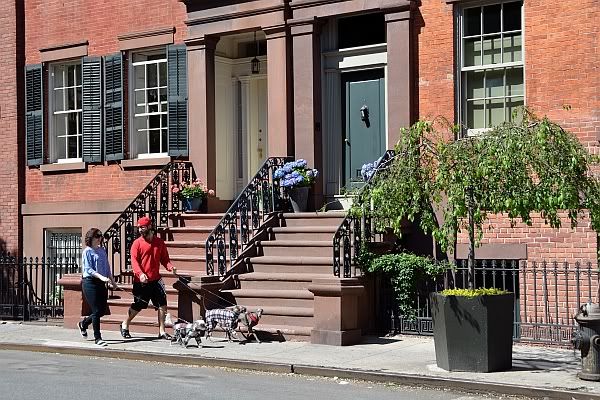 The neighborhood dogs like to get out and about early. Usually they take a few humans with them too.
Moving right along.
Some photographers prefer the grittiness and graffiti of the East Village. I greatly appreciate a good East Village walk but I'm drawn to the red brick and wrought iron views in the West. A Sunday doorway on Jane Street.
While the East Village did eventually conform to the city grid system and now stands as a testament to liberal urban renewal, the clean earth tones and pristine twisting streets on the Hudson River side of the Village just seems more relaxing on a Sunday morning.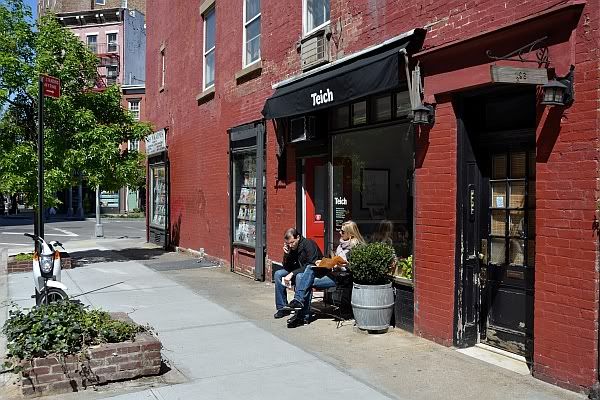 Here's at 22 Eight Avenue you can find a Greenwich Village gem. Far from unique in New York, actually only makes tenth place in
Your Guide to Manhattan's Best International Newsstands,
but the welcome you receive at
Casa Magazine
makes it obvious that the name is derived from "Mi casa es su casa." This is not a place for the claustrophobic but a place where you can really enjoy browsing magazines from all over the world in a tiny tight triangle. The magazines are packed so tight that you can never seem to get one to go back on the shelves. I find that a half hour browse of photography magazines in languages I don't understand sparks the imagination and greatly improves my day.
On Sunday morning I didn't wind up lugging around a $15.99 copy of
LFI
for the rest of the day but I went back.
Just across the street, another store to spark the imagination.
Sometimes I get too proud of photos that have no meaning, just graphic views that I find pleasing to the eye.
Sometimes the pictures have meaning for me, like this barber shop that reminds me of being eight years old.
More red brick and wrought iron with some mystery party going on behind the wall.
This brings back fond memories. A young lady sitting on the fire escape reading a book.
More fond memories, young lovers sitting on the stoop and planning their day.
The photo below represents my most favorite of happy accidents from my Sunday walking adventures. These walks are solo acts, I could never take decent photos were I walking with a friend. I like to think of these walks as possessing a bit of Colin Fletcher but the highlights are the interactions. The couple above I walked up to them and began a conversation with "That will be my photo of the day. After showing them the shots on the screen we had a conversation about the tree leaves and then they told me their plans for the rest of the day. These pleasant conversations usually end with me thinking of an expression from
Fight Club,
"single serving friends." I rarely spend much time looking through the viewfinder and experience very few accidental captures but trying to make architecture appear to be standing up straight is very time consuming for me. Often someone walks into the photo just at the instant that I'm satisfied with the building. The young lady below was not suppose to be in the photo and I thought it would be a wasted click. But sometimes those photos are more fun that the ones I'd planned. This time, I looked at this young lady and said "Got Ya!" in a comical aggressive fashion, drew a smile and then went home to find out on the big computer screen that I captured a beautiful woman walking down a blue slate Greenwich Village street and whistling while she walked. I like this photo.
Finally I find where everyone in the West Village has gone on this Sunday morning, a popular place for brunch.
Must be the name,
Extra Virgin.
Friends? Well I never got around to introducing myself to the lady on this stoop but in the background, the building behind the bishop's crook lamp post, that was the building that most of the cast from
Friends
supposedly lived in for all the years that show was on the air.
On the opposite corner of Charles and West 4th Street, it's not Central Perks but there is a Taxi for hire.
The corner of Seventh Avenue South and Grove Street.
I don't know many photo buffs who can turn down a snap of this Sheridan Square view.
Need a Seventh Avenue Psychic Reading? Just stop in and see Clair Voyant.
The next Seventh Avenue South photo is not from Sunday. I tried on Sunday but I just can't seem to capture this view again. Still this New York City street scene is worth seeing again. You can find just about anything in New York but you have certain expectations when viewing architecture and this one dosen't fit. This Mediterranean style home that is behind a wall which seems so out of place for the open New Amsterdam tradition, it just takes me to other places that are far away. I also wonder what is going on behind that wall.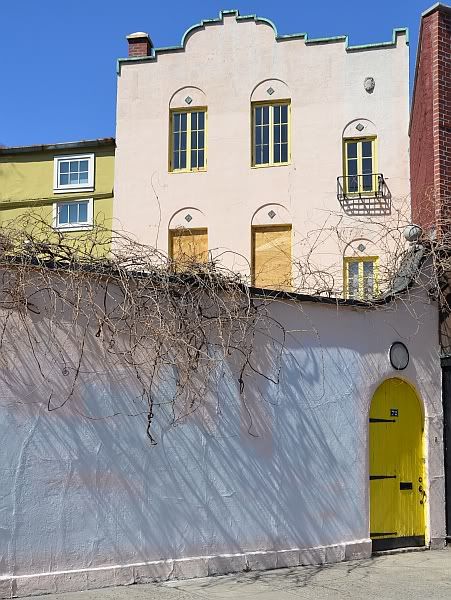 This view is also not from Sunday but I didn't get a second crack at this one. This Chinese restaurant on Seventh and Bleecker is out of business now. I've never shown this photo before but now it seems to have more value.
Here's some Bleecker Street Asian that still seems to be thriving.
"Now you have these Sushi restaurants. Everyone goes to sushi. Sushi I hate the stuff. Although I tell ya, I had some the other day, I took it home, I cooked it, it wasn't bad. It tasted like fish."
Do you remember music that you could touch? Didn't stop in this time, burning daylight and only one park on these Sunday excursions just dosen't cut it.
Already past noon and the Downing Street Playground seems deserted.
10 Downing Street, just because I heard that they have lost their lease.
Still truckin' and I've made it to Sixth Avenue. Here's a mellow view of Avignone.
Or perhaps you prefer an old world chemist.
Old time apothecaries are a wonderful place to remember times gone by.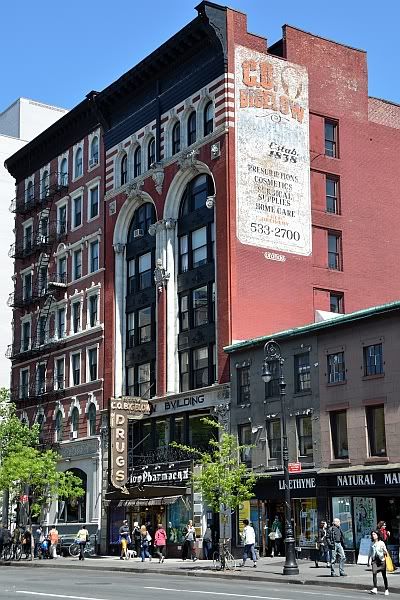 Here's a Sixth Avenue blast from my past. Sadly the Shalom Amigo Travel Agency is long gone but the Washington Square Restaurant that is next door has not changed since I was a boy.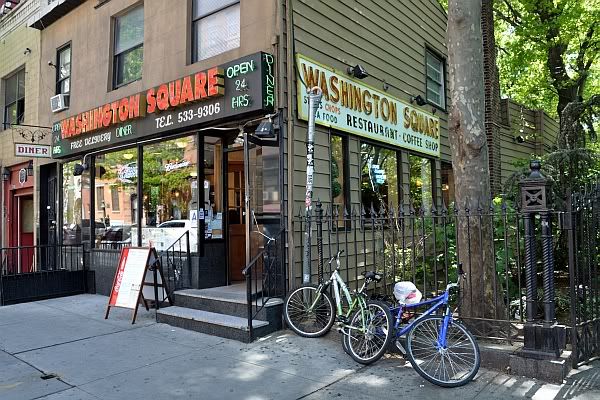 The Waverly Diner also seems frozen in time.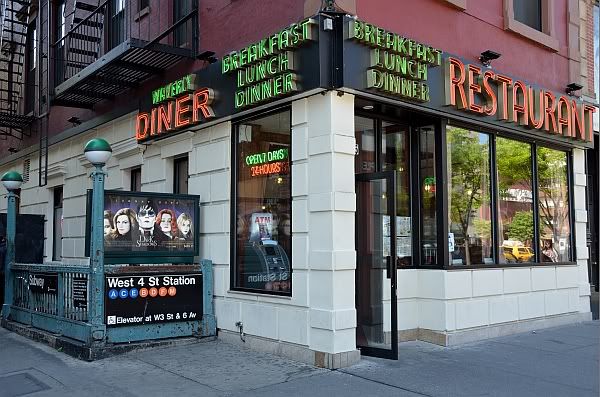 I made it to Washington Square Park! Through the arch is Fifth Avenue, the street that separates east from west in New York City, also know as 'the most expensive street in the world' but the real money is up top in the penthouses.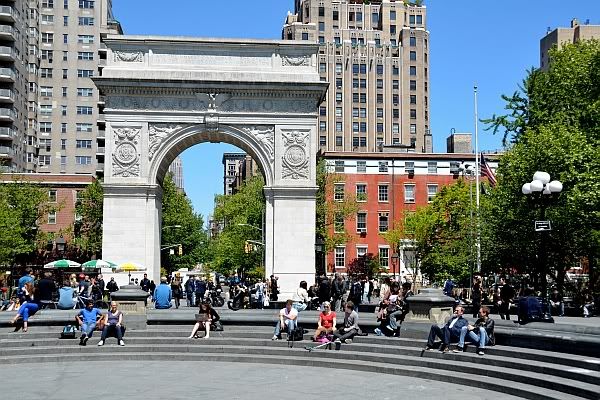 Here's a rather prestigious address. The last time I checked Will Smith was living there as the last surviving New Yorker and having trouble keeping the zombies out of the living room. Need a little
I Am Legend mood music?
No sign of zombies now.
There's a tap dance contest over here.
A jazz concert over there.
And William MacLeod, he is very friendly with the pigeons of Washington Square Park.
But these three were the 'single serving friends' of the day. When first I saw them talking into pillars marked "Branch Out. Start a conversation with a stranger," I thought the city had installed some permanent installation fun for visitors. Then I saw the three of them walking away with the cardboard columns. It was all their idea and what big eyes the ladies have.
The color of
MacDougal Street
should improve the walk back to the High Line.
First stop, the oldest coffee house in Greenwich Village and perhaps the birthplace of the café society in the Village. Caffe Reggio was once a place for beat generation poets like Kerouac and Corso but the history goes all the way back to 1927. Even if you've never been there, if you did go inside the ornately carved wooden benches, tiny marble-topped tables and iron-backed chairs of Caffe Reggio seem familiar. This coffee house that is rumored to have introduced cappuccino to America and has paintings on the wall that give off an interior feel of Renaissance Italy seems familiar because of classic movies like
Serpico
, the original
Shaft
and
Godfather II.
And speaking of relics of Greenwich Village's café society.
On January 24, 1961 a kid named Bob Dylan played the Cafe Wha?
The list of comedians who appeared at the Wha? includes Woody Allen, Lenny Bruce, Joan Rivers, Bill Cosby and Richard Pryor. Early in their musical careers Jimi Hendrix, Bruce Springsteen, The Velvet Underground, and Peter, Paul & Mary all played the Wha? But the fun trivia fact is an explanation
why Van Halen played the little tiny Wha? this year.
The original owner Manny Roth is the uncle of David Lee Roth.
Good Chili and the owner is a really nice guy.
The corner of MacDougal and Bleecker, perhaps the heart of Greenwich Village.
A late brunch.
Through the gate, a view of
Patchin Place.
This pretty little house is just across the alley from the former residence of e e cummings at 4 Patchin Place.
Age and wisdom on Greenwich Avenue.
And here is one for Dylan Thomas.
I like storefronts to capture the atmosphere of a neighborhood.
But I've never been able to capture "The Spotted Pig" to my liking. Every time I try because this famous gastropub usually has so many famous people eating there, someone always approaches me to ask me "Who's inside?" I have never been able to convince a single person that I'm not a paparazzi and then there is a comical grilling. "Come on just tell me. Which star is eating there now?" This photo will have to do for now.
Looking up Greenwich Street from the Bus Stop.
And now, the best trivial pursuit in this diary and the perfect story for what was supermoon week. Neither the manager nor any of the waiters I spoke to were aware that this restaurant is hallowed ground. In
Moonstruck
the Metropolitan Opera House wasn't Loretta Castorini's only trip into Manhattan. That restaurant, the Grand Ticino where Mr. Johnny Cammareri proposed to Cher and Olympia Dukakis had dinner John Mahoney wasn't really in Brooklyn. In the movie they put a Hicks St. street sign in the foreground to fool you but the actual location for the restaurant was in Manhattan's West Village. Now it is called Cafe Cluny on West 12th Street and the new restaurant was used recently in another film starring Jennifer Aniston,
Switch
.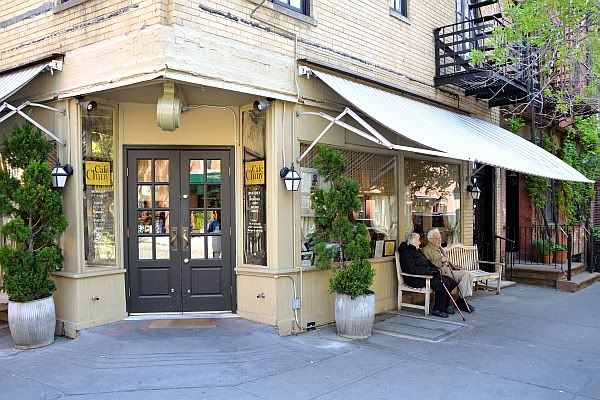 Now I'm dog tired, walking far too long.
Time to head back to Gansevoort Square. The joint is jumping now.
Where I made three new "single serving friends." On the left an artist who sells her paintings on Washington Street and seemed to enjoy listening to my life story. In the middle is her sister and I don't know what Ian Hunter was doing there.
Then head for the High Line for a walk back to the car.
The view down Washington Street from the High Line.
An April Dogwood in the afternoon sun. Fun fact, the last train to ride the rails of the High Line was in 1980 and carrying frozen turkeys. Now there are Flowering Dogwoods growing on the rails. How's that for transportation alternatives?
Many people seem exhausted after such a great day.
Now I'm invigorated all over again over some High Line people watching.
Here's an old favorite of mine
from my first diary on The High Line.
I've never been able to do that glass justice since my first attempt.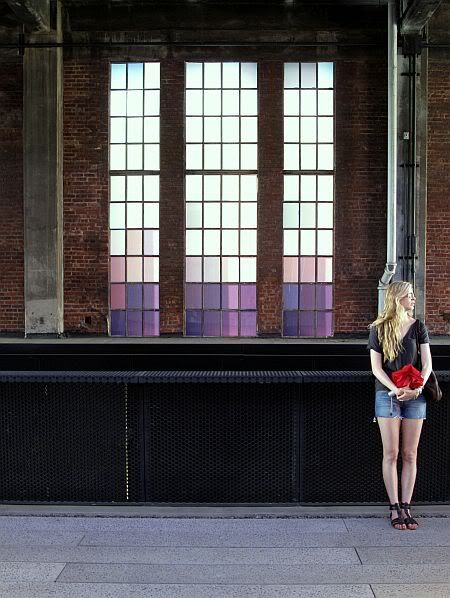 My return to the morning scene but this time with very sore feet.
Perhaps I was reinvigorated because of the high end fashion shoot I stumbled upon. Because of my many studies of fashion photography, this young lady seems familiar but I can't put a name with the face. Does anyone know the name of this fashion model?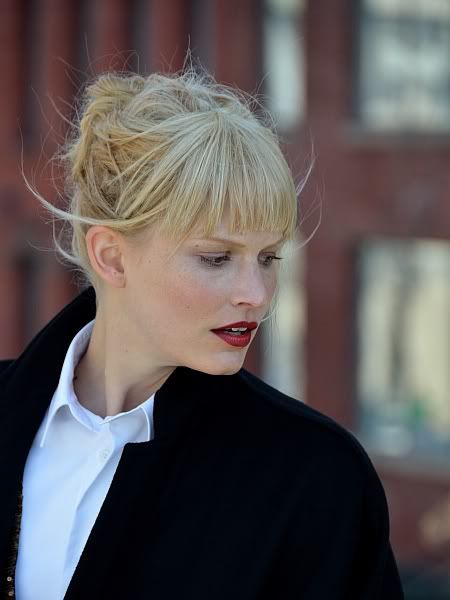 Here's another fun fact from High Line Park. While New Yorkers anxiously await
the 2014 opening of third and final section of The High Line,
there was an interesting story in The New York Times when the second section opened and the park had just turned two years old. In
The Park Is Elevated. Its Crime Rate Is Anything But,
it was pointed out that there had not been a single serious crime on The High Line. Hopefully, that is still true today.
Just above the Chelsea Market, where this story began, there is now a water feature. It is just running water on pavement in a area that has a really great view of the Hudson River but the temperature does seem to go down there. In the late afternoon sun the wet pavement section of the High Line does really feel like the end of a day at the beach.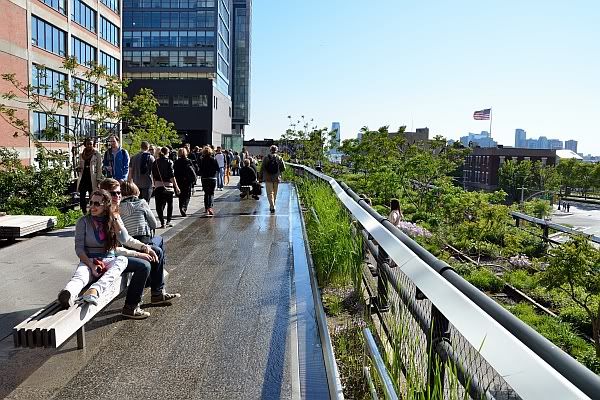 I doubt that New York City offers a better place to study human interaction than this aerial greenway with a backdrop of bricks and stone. I'm sure that The High Line is the most interesting place to be on a Sunday afternoon.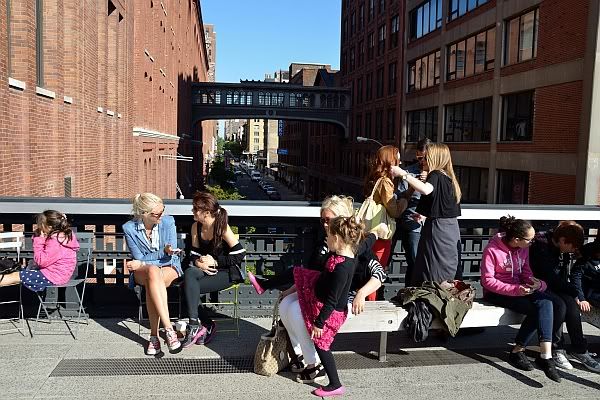 The bridges to the Chelsea Market form a Statue of Liberty portal.
Sometimes liberty gets blocked out. Isn't it odd how many people believe they can do without the necessities of live just as long as they can enjoy a few luxuries.
The view below is of the Tenth Avenue Square in what I thought was some pretty stunning light. Unlike the rest of the railway that was designed to go through the center of blocks, that square is right above Tenth Avenue. For many years it was pretty much the only reminder that the High Line ever existed. Soon after that last turkey train came through nature began to take over. I remember driving up Tenth Avenue and seeing an overhead Ailanthus forest. I like to think that view was the inspiration for High Line Park.
The sign in the background.
Three views of the 23rd Street Grasslands. The first photo faces downtown and looks toward the Tenth Avenue Square.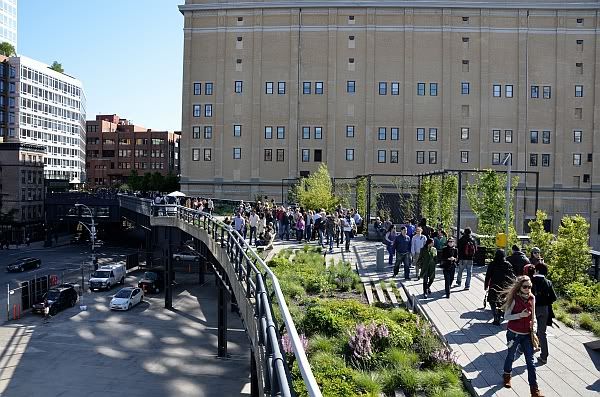 Here is the northwestern view with Frank Gehry's sailing ship
IAC Building
pointed at the Chelsea Pier and the once famous
Roxy NYC
decaying in the foreground.
And in the middle of it all, my favorite photo of the day. As my Odyssey was coming to a close I looked down and saw three young ladies who had grabbed some pavement in the last available spot of sunshine. I was weak tired and missing my youth something fierce. Viewing this youth and beauty I heard and saw the opening scene from
Something Got to Give
but with the narration of Jack Nicholson. Rather than plug my ears to prevent any further spells I was listening. I heard a woman complaining to her son. I'm pretty sure that the furthest thing from that young man's mind was those young ladies ruining their clothing.
The High Line is already famous for the natural beauty growing out of concrete in the sky but there is something else going on there. Like that hot new restaurant that everyone need to see and be seen in, there is still the electricity of the new. Really the people walking, talking, exchanging thoughts, laughing and enjoying life is what makes this one mile of New York City so special. So much youth and beauty packed tightly into an overhead park with only one direction, forward, it makes for viewing the urban human experience in a new and unique fashion.
At the end of the day a gathering of people enjoying the 23rd Street Lawn and Seating Steps. It is a viewing area to watch the people passing in each direction. The little girl in blue is sound asleep, must have a big week ahead.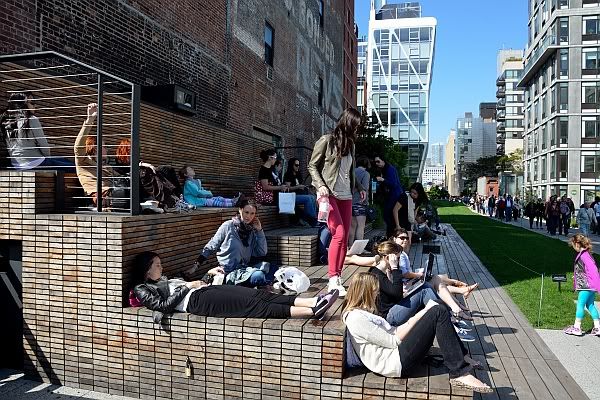 I go back there often to remember my youth, remember it fondly.
This was the furthest north I made it on my Sunday excursion.
So, just in case you are feeling shortchanged, here is a shot of the Radial Bench from my second High Line diary,
To Be Back on the High Line Again.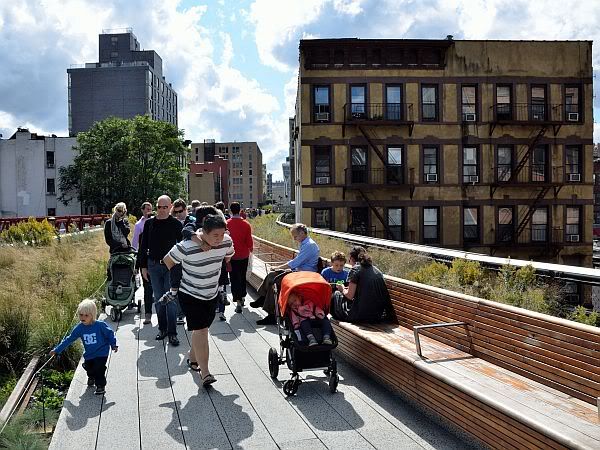 But one last photo and not from my recent Sunday walk. This picture is from Superbowl Sunday and I found out that the flower shop is now out of business. I love this photo of Washington Street and not just because I'll never have a chance to repeat the view, just because of the color and the reflection of the winter trees of The High Line.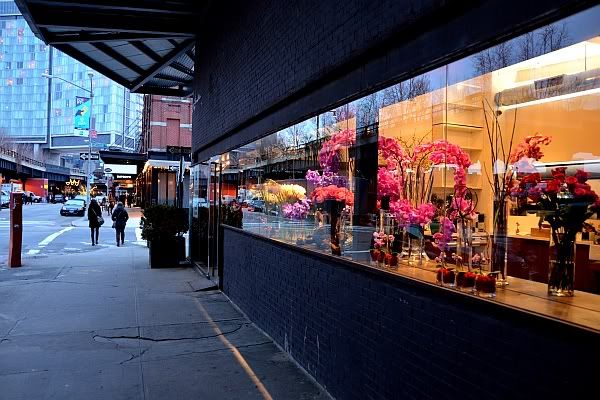 And so ends my journey but here I must make a confession. Only about eighty percent of the photos are from Sunday April 29th. I wrote the diary that week but I was unhappy with the look so I went back the following Sunday to retrace my steps and improve the view. Most of the photos in this diary were taken with a Nikon D7000 but there are also a few taken with a Nikon P7100.