As a totally obsessed photo buff, sometimes I come up with the occasional piece of eye candy. As NY1 claims that with the humidity it was around 110° today in New York City, I'm thinking the debt ceiling will rise all by itself. With little too say I hid out all day and went through last week's photos.
For me the camera is a sort of kinetic meditation. Basically I walk around with a camera to forget how screwed we are with the present set of so called representatives we are stuck with. So if you need break from ugly, than pull yourself up a Wave Hill Chair...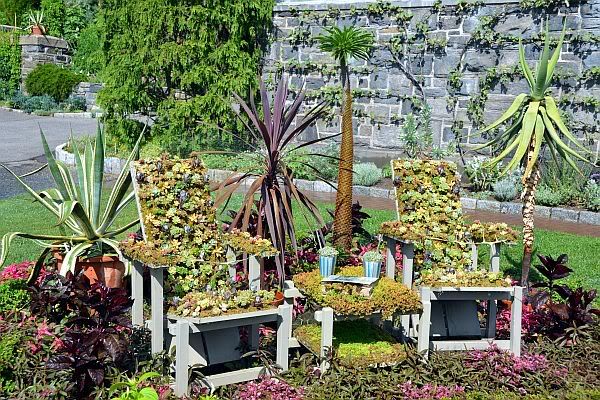 And take a ride with me for a week of photography.
Chicks and ducks and geese better scurry
When I take you out in the surrey,
When I take you out in the surrey with the fringe on top!
My week started out with a three island hike. It was sort of like the voyage of the Minnow only there was no boat and one island was a bit populated. The view of East Harlem, Spanish Harlem or El Barrio on Saturday.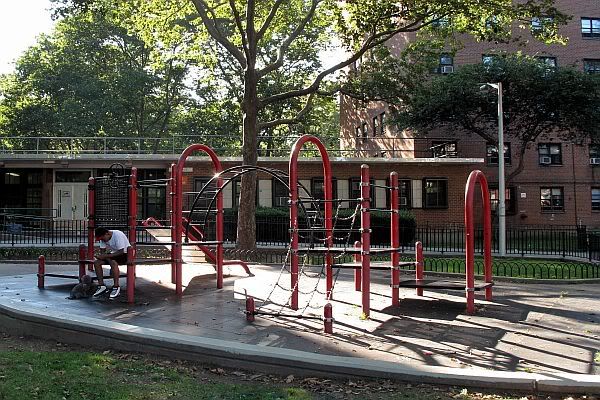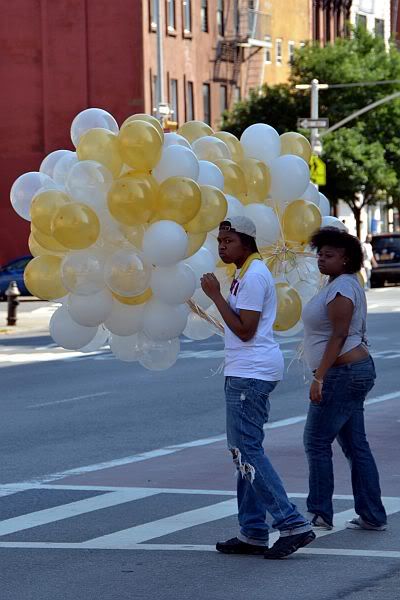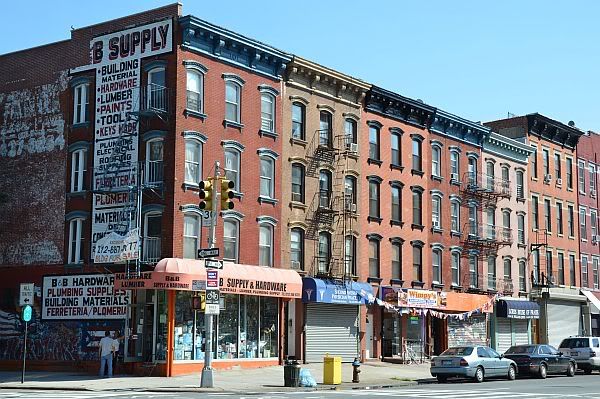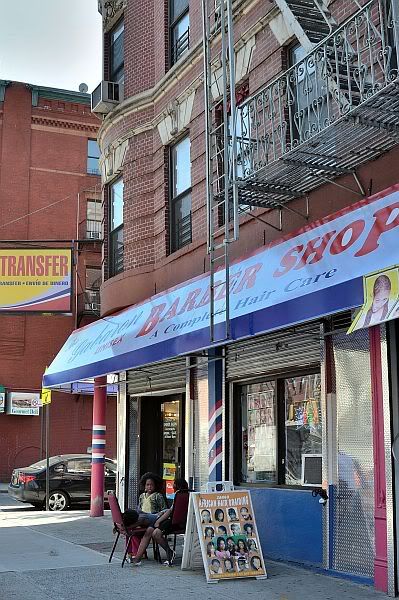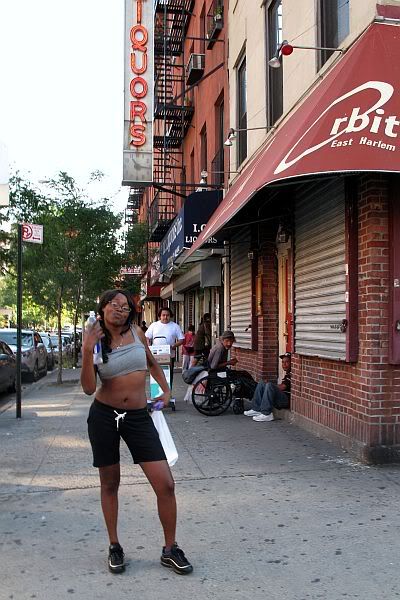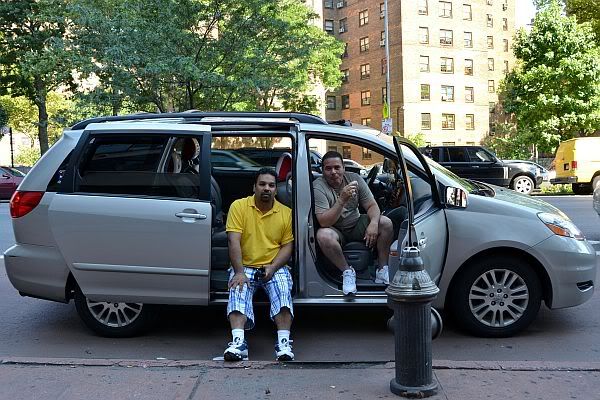 Those photos represent my newest form of expression through photography, street photography. I'm a bona fide sunset sort of guy and I like to pretend that I know what I'm doing when it comes to flowers and the forest but about a year ago I discovered how liberal of an art street photography really is. I wrote a piece about it called
Friday Evening Photo Blogging: Street Photography Edition.
In it I claimed that this is a pure art, an offshoot of photojournalism and that Jacob Riis is standing right beside me every time I take a snapshot on the city streets.
Not that I could ever live up to the works of the greats that I mimic but things have changed since I wrote that.
That's right I'm a flip flopper.
Now there is a little more Berenice Abbott and Helen Levitt standing beside me.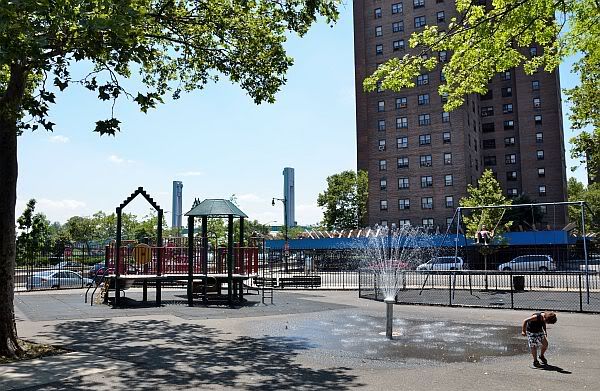 Those other two islands, not so much in the population department but before my three hour tour, the breakfast of champions.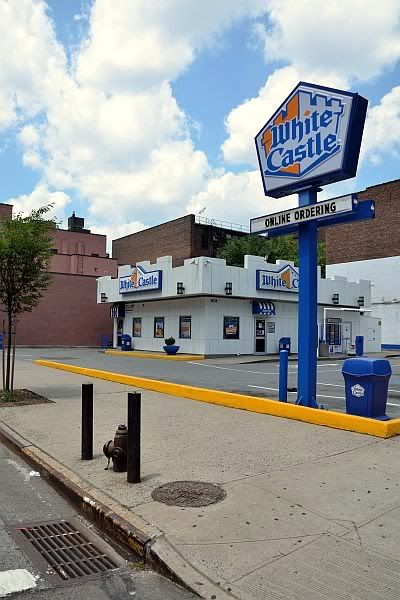 The tour destinations were
Wards
and
Randall's Island.
What do you think of this for a "big government" pedestrian bridge?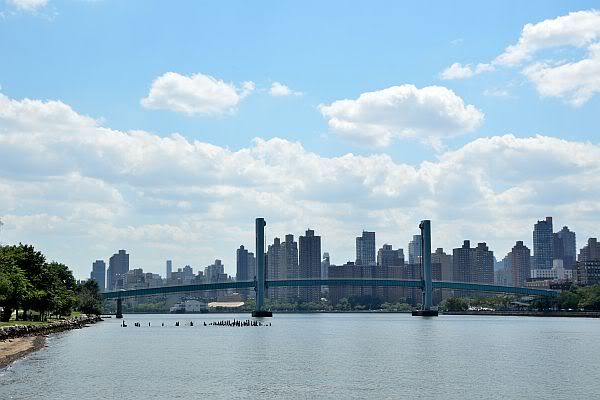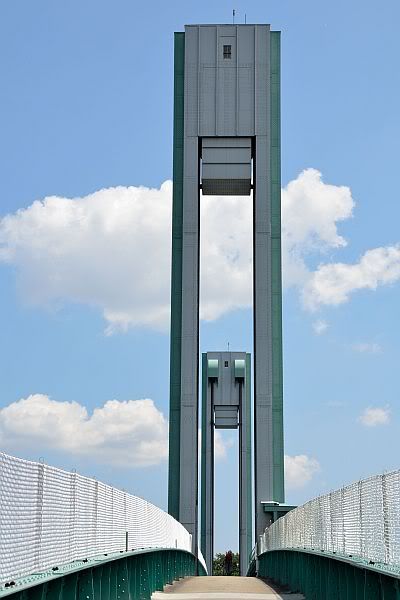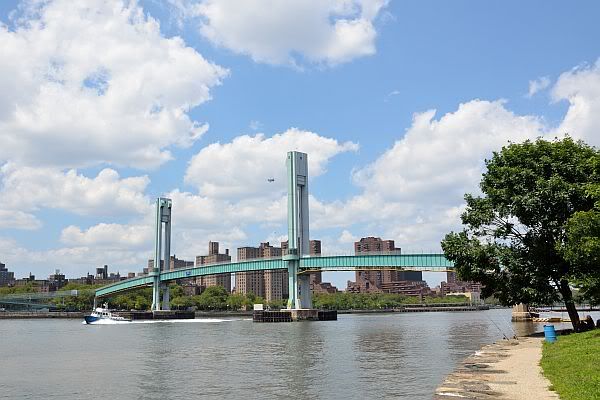 Really I took the walk for the view of the Robert F. Kennedy Bridge. I knew the Seventy-fifth Anniversary of the bridge was last week and wanted to write about what a Democrat once sounded like. Sounded like a good topic of conversation to me.
Kossacks found the title
Happy Birthday to the Robert F. Kennedy Bridge
so engaging that a grand total of twenty-two of them opened the diary wile it was on the recent diaries list. Not really a big deal to me, no matter where you go, there you are.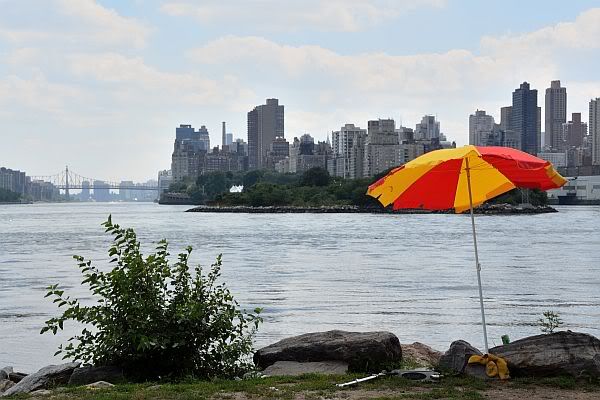 Both of these islands, that over the years have become one, have long histories as New York City dumping grounds. It was where New Yorkers sent both their garbage
and their less desirable.
The island became a repository for people considered undesirable to mainstream society. The city first used the island as a potter's field - a public burial ground for dead people without family or friends to claim them. Later, the city built a shelter for impoverished immigrants and an insane asylum on the island. In the 1930s, Robert Moses wanted to turn both islands into a giant recreational area, but Moses was not persuasive enough, and instead, New York State built the Manhattan Psychiatric Center on the area previously occupied by the insane asylum. In addition to the hospital, other institutional buildings on the island include the New York City Fire Academy, a homeless men's shelter, a water treatment plant and a maintenance garage for the Parks Department's vehicles and equipment.
Today much of both islands are parkland and quite a pretty place for a getaway from the city.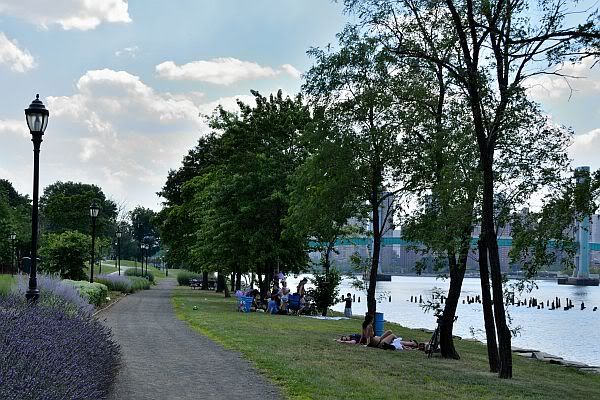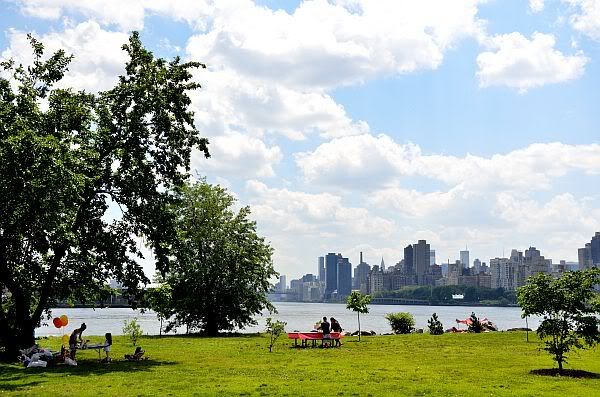 There are even horses.
I wouldn't know a Shetland Pony from Russia, the 200 lb. mascot of Auntie El's Farm Market on on Route 17 in Sloatsburg.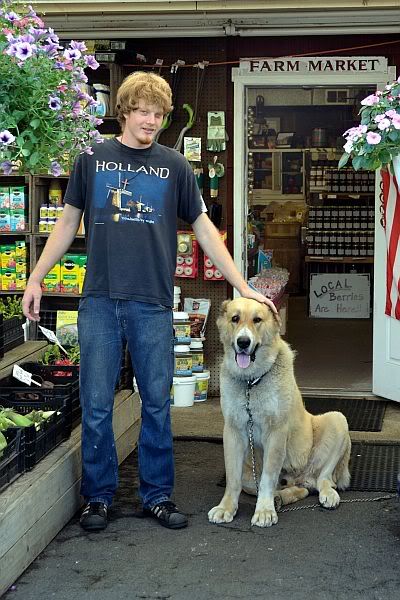 But these horses are pretty small.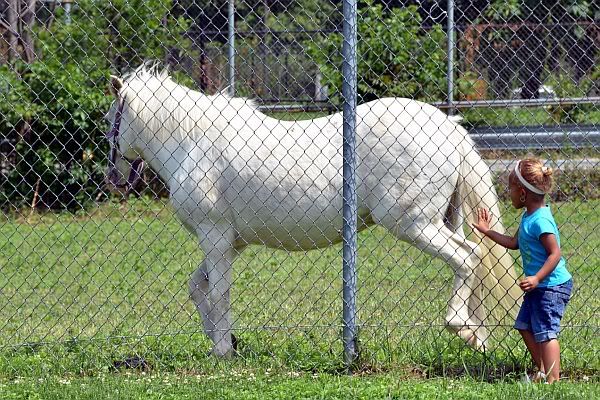 The view of Randall's island from the north side of Wards Island.
Icahn Stadium
can be seen in the background and if Cirque du Soleil this photo would be dominated by a blue and yellow tent.
The bridge over the creek.
And a look back at Wards.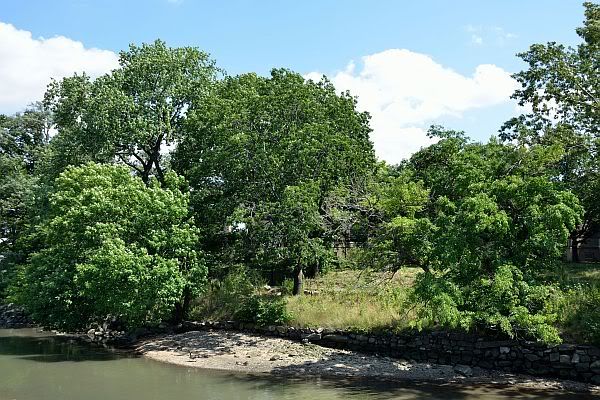 Getting pretty far from the pedestrian bridge.
And close to the return bridge.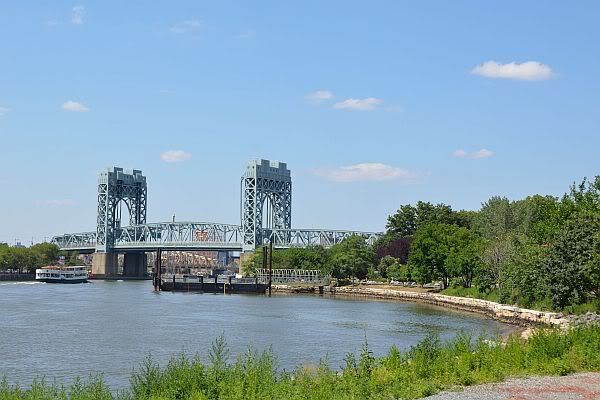 Photography is strictly forbidden. "Come and get me coppers."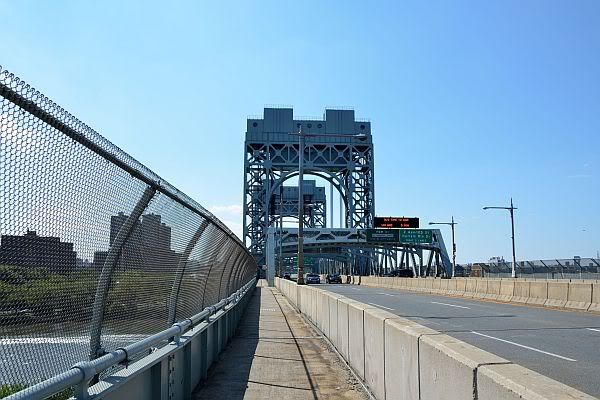 The view halfway across the bridge back to Manhattan. In the middle you can see the largest building on Wards Island. The once infamous Manhattan Psychiatric Center that has not been in the news for years. You cannot see the Wards Island Men's Homeless Shelter
that is almost never in the news.
I once volunteered there and there are so many stories that people should know.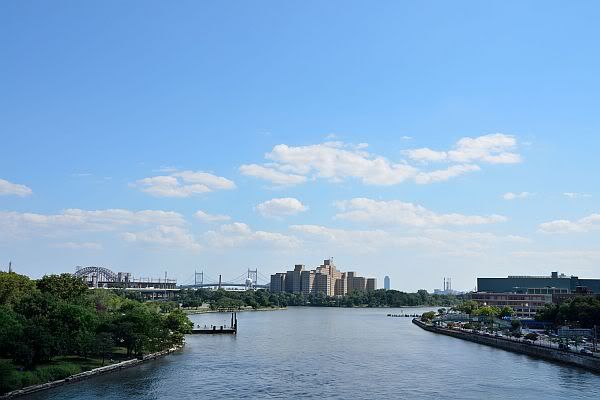 Back in Spanish Harlem just in time for the best Pizza in the world.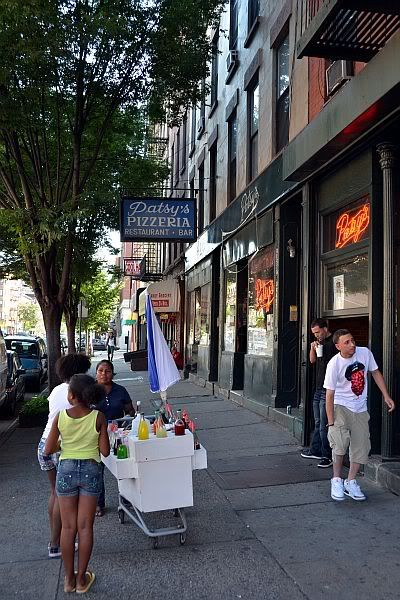 And I flew home just in time for a Bronx sunset.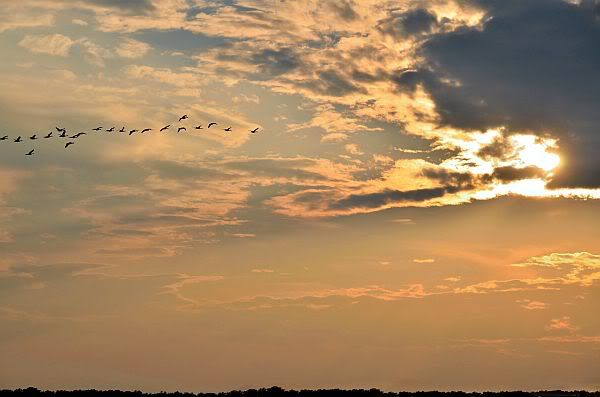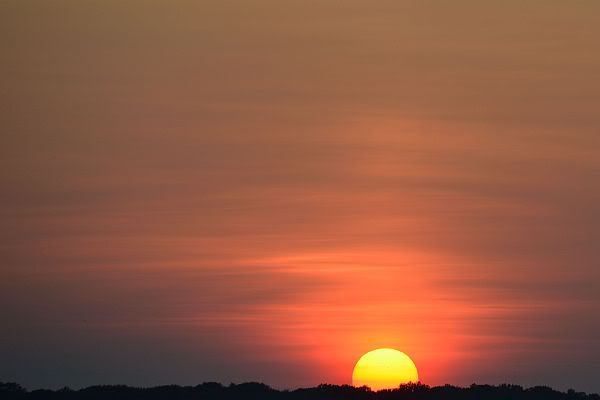 Early Sunday morning, the last time I saw sunlight that day.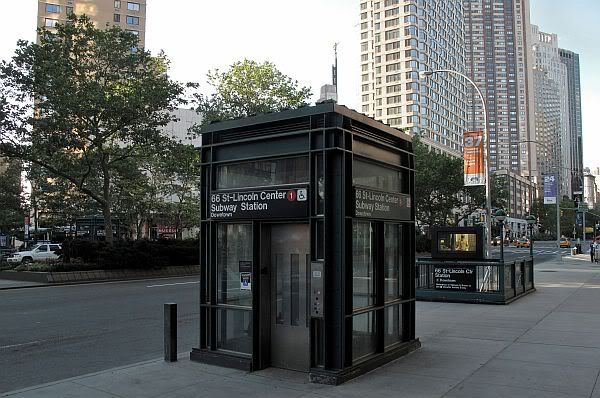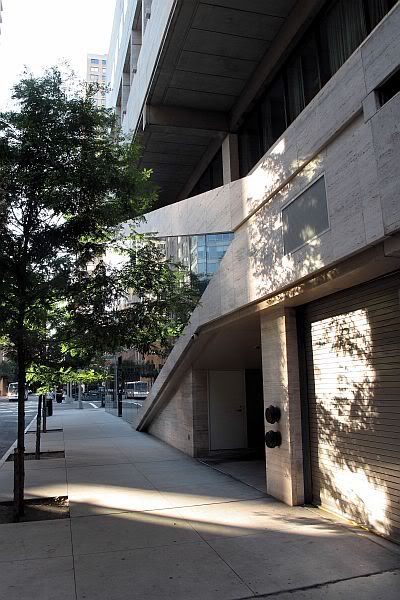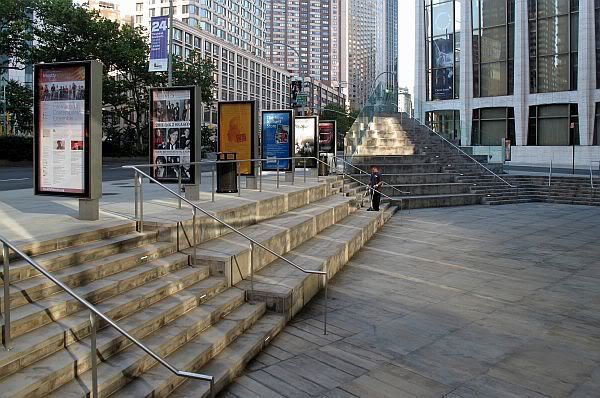 On Monday I went to work late but I got to seethe sunset both above and below the West Side Highway before trying to get through the Harry Potter fans.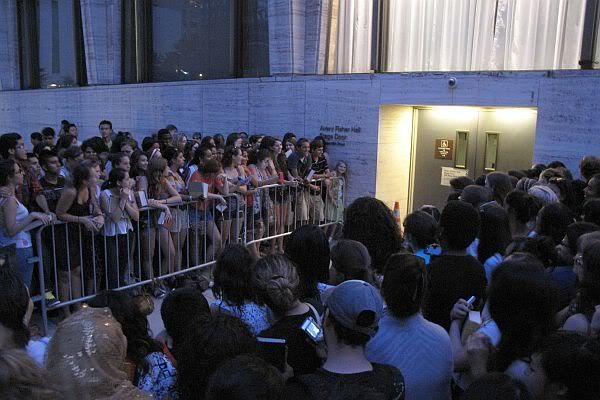 Wednesday's sunset.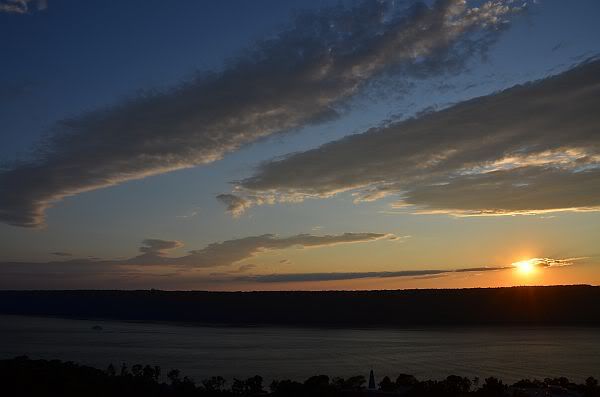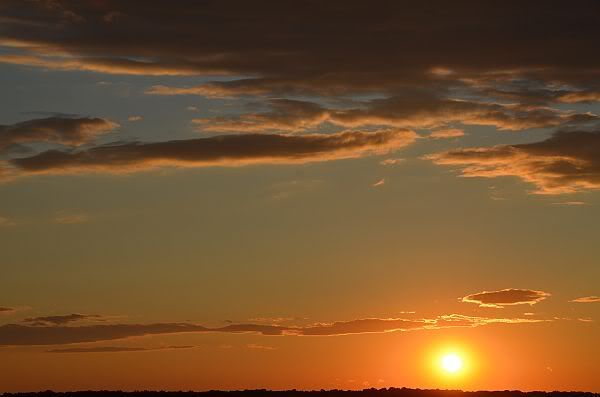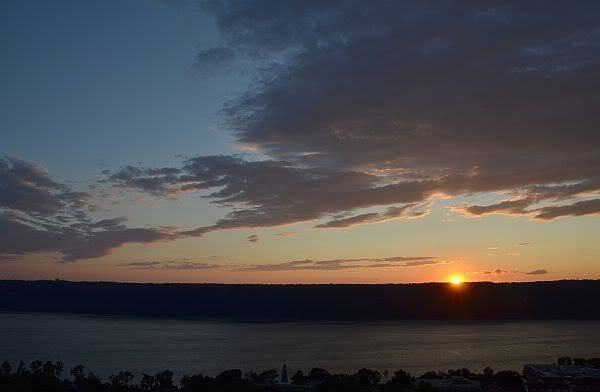 On Thursday I stopped in for a late afternoon visit to Wave Hill.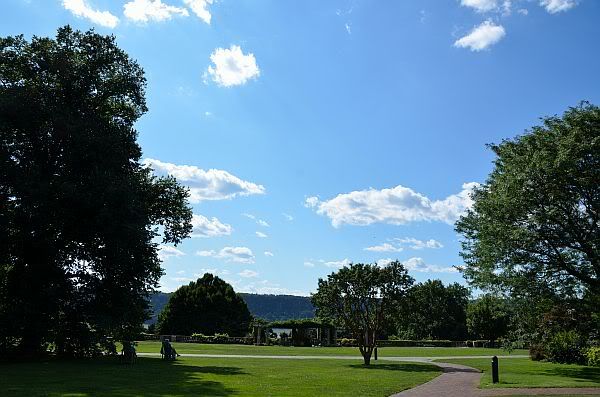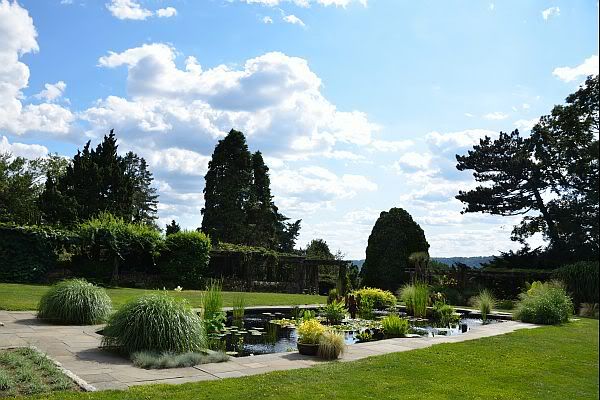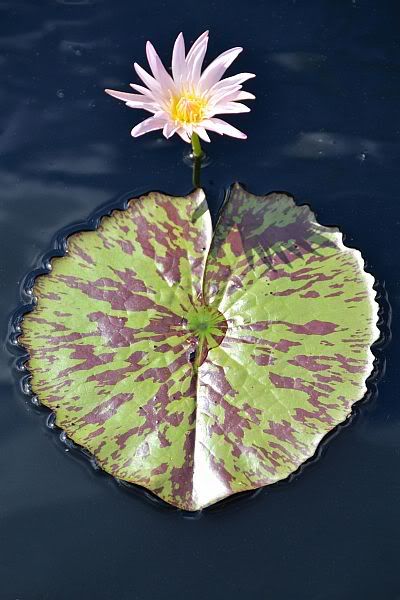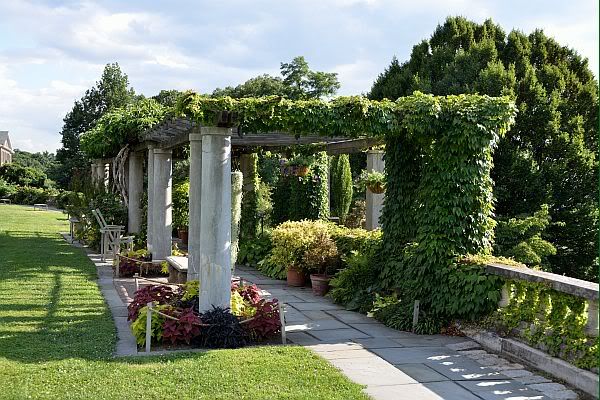 Home for a sunset dinner.
And I stayed up late enough for the view of Cosmo's Moon.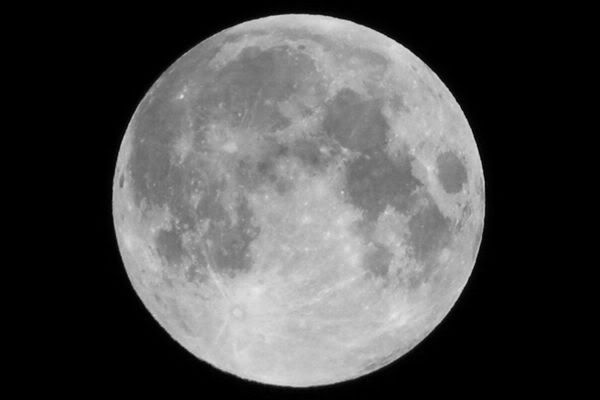 My weekend was all about the most beautiful drive in the New York City area,
the Seven Lakes Drive.
The fastest route to this nicest drive is not the Palisades Interstate Parkway but there is more to life then speed. Might I suggest a breakfast pit stop at the State Line Lookout? It is a hawk watcher's paradise.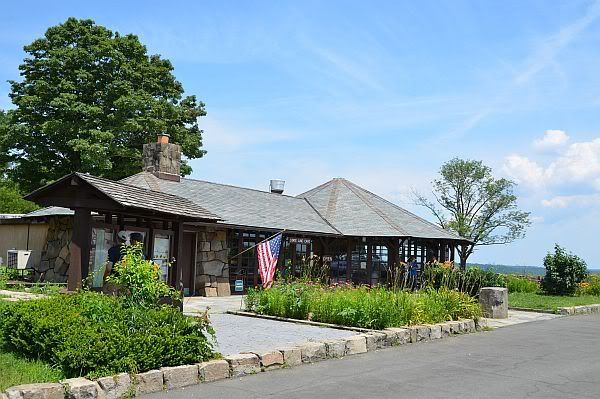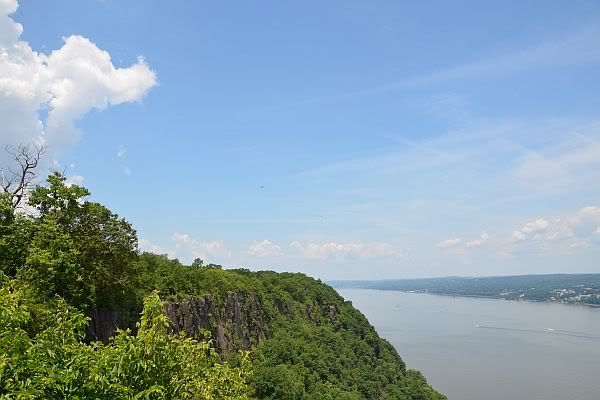 The Seven Lakes Drive that begins in Sloatsburg, New York winds through Harriman State Park. The entrance to the park and the beginning of one of the prettiest roads in America is only 27.8 miles from the George Washington Bridge.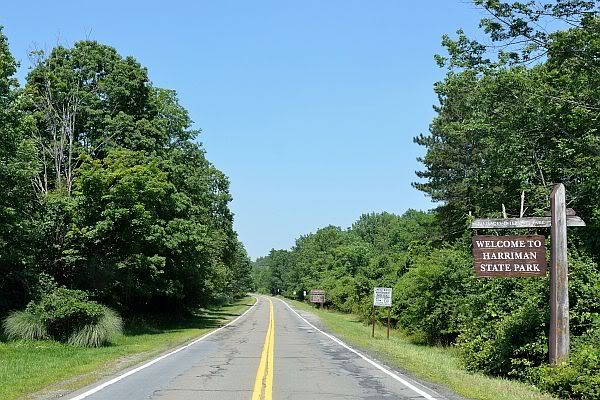 Seven Lakes Drive is around seventeen miles long and has a strictly enforced 40 m.p.h speed limit but almost nobody minds when you are driving too slow. The road was not designed to get from one place to the next. It was designed long ago for Sunday afternoon family outings in what was then a brand new invention, the motor car. A road that was built for the purpose of forgetting the city nearby.
There is not a single gas station or convenience stand to see, nothing but nature on a road that seems to belong in a forest. Seventeen miles of trees and lakes for the whole drive with deer checking you out, occasionally even a black bear can be seen from the road. The Seven Lakes Drive ends at Bear Mountain.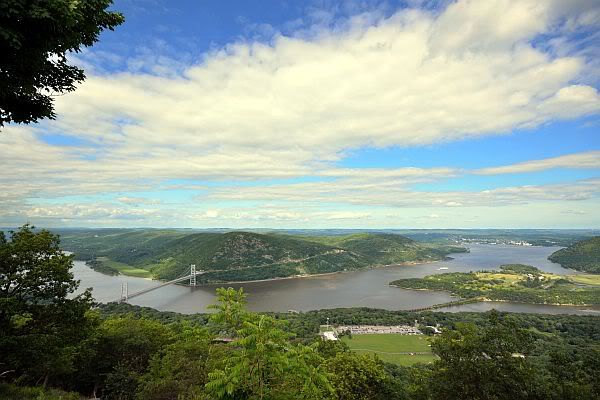 The are more than seven lakes in the area. Harriman alone has thirty lakes and two hundred miles of hiking trails. About halfway through the drive
The Appalachian Trail
crosses the Seven Lakes Drive and there are free showers at the Lake Tiorati bath house. You will never meet a dull human who decided a 2,175 mile sounded like a good idea but occasionally you will meet a few who have made it to Medicare and Social Security. These two who were walking from Georgia's Springer Mountain to Mount Katahdin in Maine, were two of the the most interesting and happiest people I've met this summer.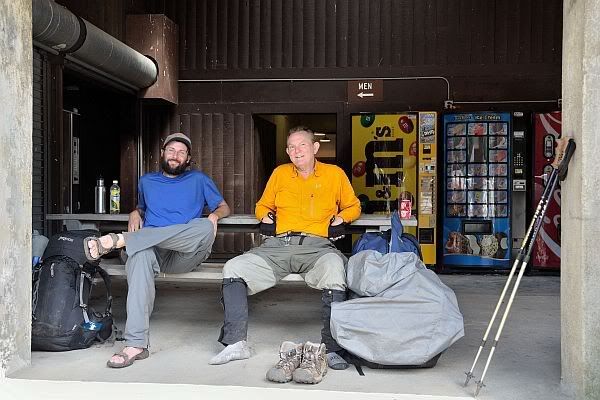 Of the thirty lakes in Harriman State Park the road is named Seven Lakes Drive because it actually comes within view of seven. Going north
Lake Sebago.
The name is Algonquian for "big water" and Sebago is the largest of the seven on the drive. There are several campgrounds and rustic cabins you can rent on this lake that is more like thousands of miles from New York City than the actual thirty five.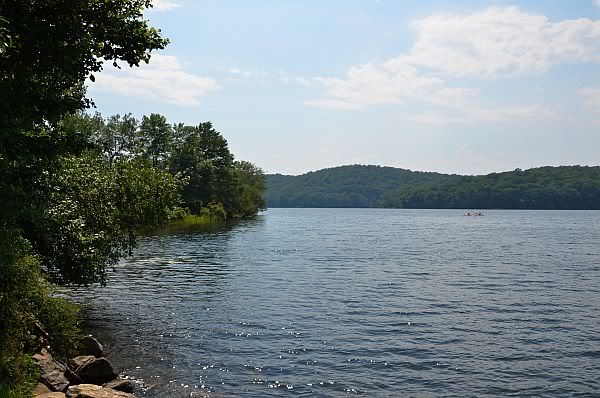 There is a popular public beach but if you pull off the drive at the Lake Sebago Boat Launch and walk about a thousand feet south, you will find the old abandoned beach. You can walk through a vast meadow where there was one a parking lot and find a sandy beach that has become overgrown with grass. This beach is closed but always occupied by Russian and Eastern European immigrants, such rebels.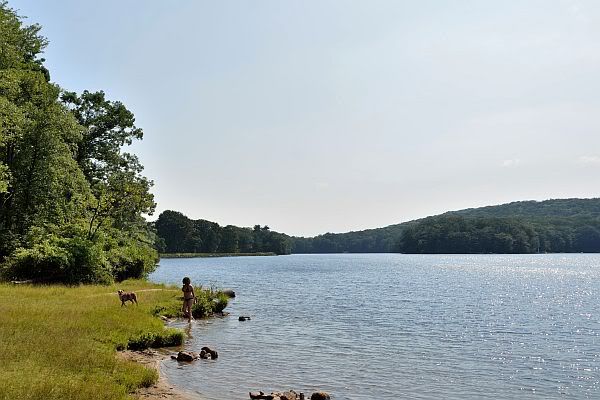 The second lake on Seven Lakes Drive is around the bend at the Lake Welsh traffic circle. You can find a Nature Center there and beautiful stands of Eastern White Pine
Lake Kanawauke.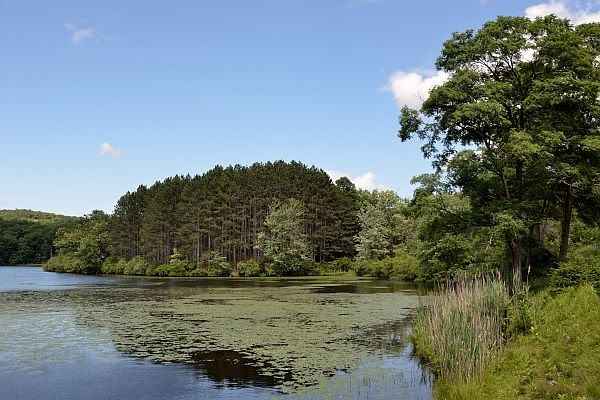 Lake Welsh does not count as one of the Seven Lakes but it is a great place for a detour. Because most people go to Lake Welsh from the Palisades Interstate Parkway the Lake Welsh Drive is perhaps the least traveled road in lower New York State. This time of year the two miles will probably include fifteen or twenty deer and even more wild turkeys.
One of the most fascinating stories in the area is
Doodletown
which is now a ghost town. There is only a cemetery, a few field stone walls and flowers that have no business in a northeastern forest to mark Doodletown but along the road to lake Welsh there is another secret hamlet with a more substantial reminder of times gone by.
If you take the turn from Lake Welsh Drive at Johnsontown Road you will find a place where a small town called Sandyfield once stood. The town church, St John's in the Wilderness Church still had parishioners on Sunday but the only other signs of civilization are a caretakers house, the church barn and a well kept cemetery beside the church.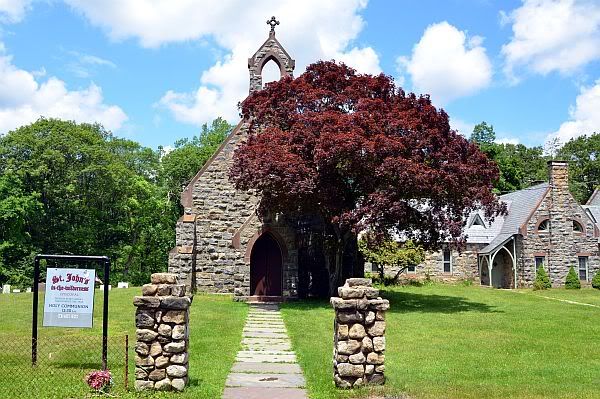 There I met Bob Woods and his wife. They posed for a photo in front of his father's grave but he also showed me the graves of his grandfather and great grandfather. The Korean War Veteran told me stories of the thirty families that once lived there. He even knew where they had all gone, down a road that is now a hiking trail called the Hasenclever to the town of Stony Point.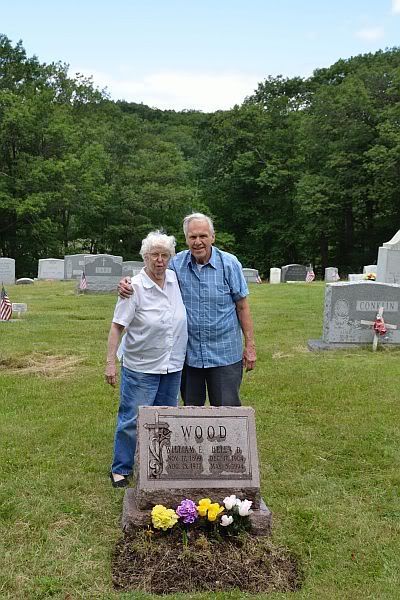 The wife never said a word but Bob told me stories of courting her after church each Sunday and trying to win her hand with witty conversation standing by the town well house. It was in that church barn at a summer dance in the 1950's when he asked her to marry him.
Lake Skannatati
is the third lake on Seven Lakes Drive and has a free lakeside parking lot at the north end. A
circle hike around this lake
makes for a very pretty day.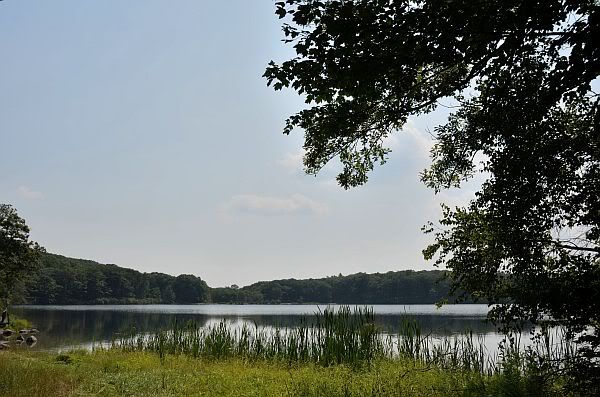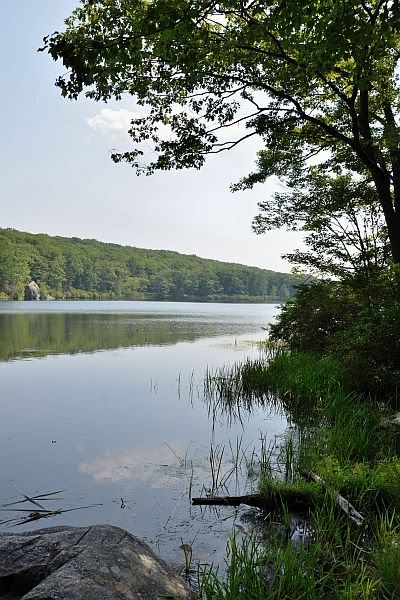 The south end of
Lake Askoti
is just across the road from the Lake Skannatati parking lot and is best known for some pretty rock outcrops on the other side from Seven Lakes Drive.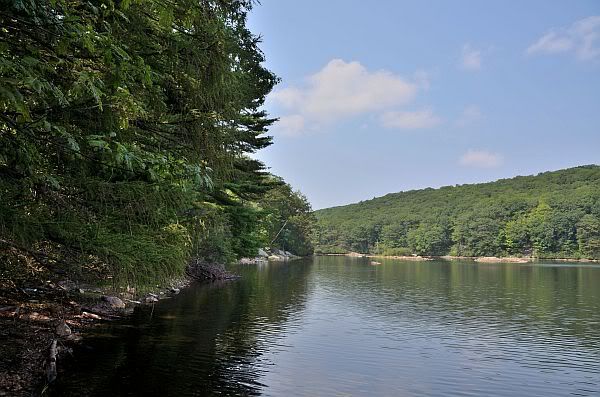 Lake Tiorati
that until today I always thought was the largest in the park is the most visited. There is a public beach, a huge picnic area and many summer camps on the lake. The area know as Ceder Pond is very pretty.
Lake Nawahunta
is probably the smallest of the Seven Lakes. I also think it is the most beautiful.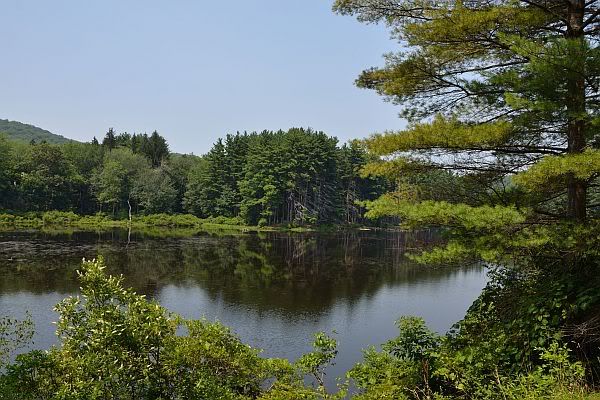 And Finally the
Silver Mine Lake
, where there was once a ski lodge. I remember $2 lift tickets and another two for the equipment. Now it is a gathering place to the largest flock of barn swallows I've ever seen.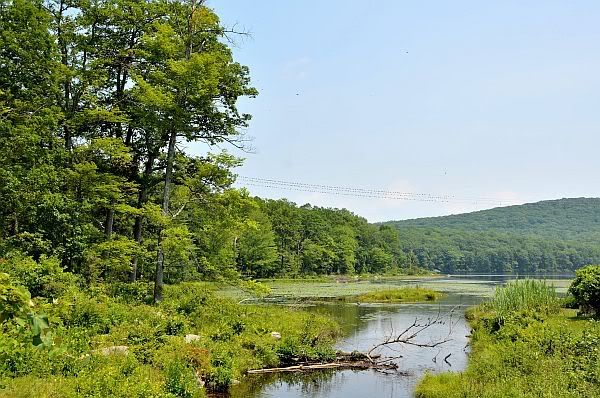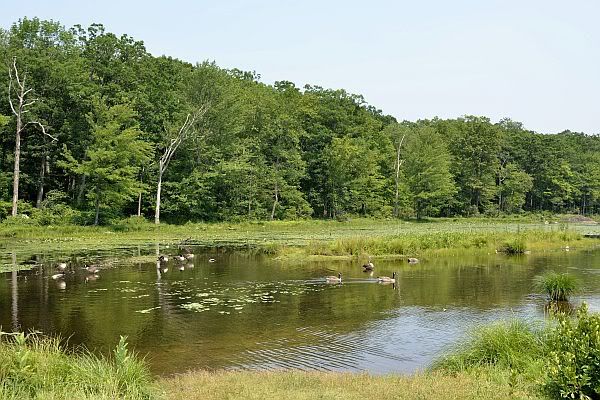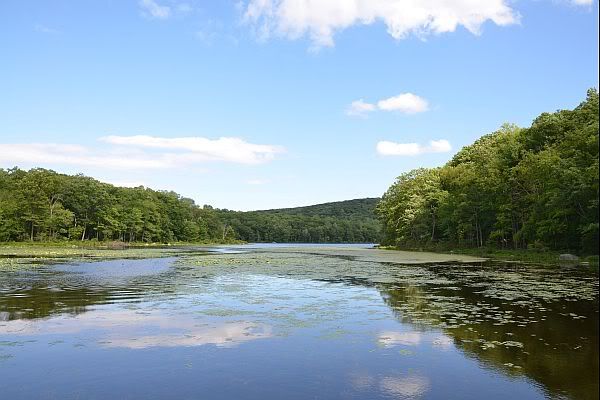 And after a drive along the Seven Lakes I always like to go up the Perkins Memorial Drive to pay my respects to George Wallbridge Perkins. Doesn't that tower in his name just scream "New Deal?"
I'm sure glad that back then there were rich people influencing government to do the right thing, back when
the government wanted to put a prison on top of Bear Mountain.
In 1908 the State of New York announced plans to relocate Sing Sing Prison to Bear Mountain. Work was begun on the area near Highland Lake (renamed Hessian Lake) and in January 1909, the state purchased the 740-acre (3.0 km2) Bear Mountain tract. Conservationists, inspired by the work of the Palisades Interstate Park Commission lobbied successfully for the creation of the Highlands of the Hudson Forest Preserve. However, the prison project was continued.

Mary Averell Harriman, whose husband, Union Pacific Railroad president E. H. Harriman died in September of that year, offered the state another 10,000 acres (40 km2) and one million dollars toward the creation of a state park. George W. Perkins, with whom she had been working, raised another $1.5 million from a dozen wealthy contributors including John D. Rockefeller and J. Pierpont Morgan. New York state appropriated a matching $2.5 million and the state of New Jersey appropriated $500,000 to build the Henry Hudson Drive, (which would be succeeded by the Palisades Interstate Parkway in 1947).
What a view!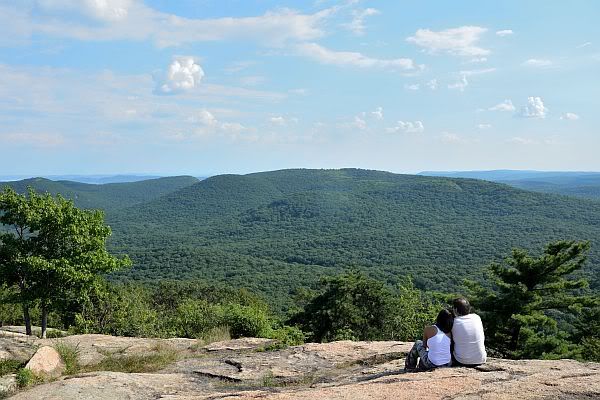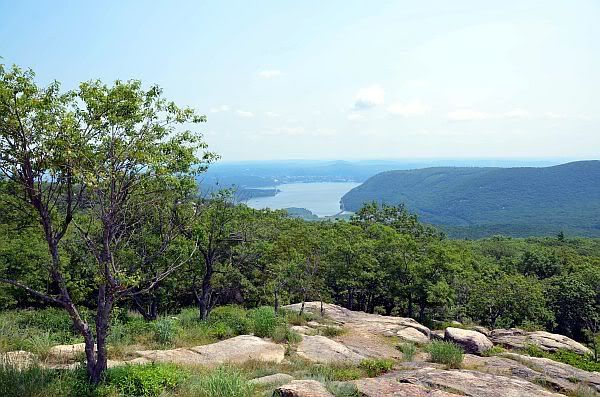 And a pretty woman sitting under my favorite krumholtz too!
Just one more view, a look down from the northern hills at Hessian Lake in Bear Mountain State Park and the Hudson beyond.
Watch that fringe and see how it flutters
When I drive them high steppin' strutters.
Nosey pokes'll peek thru' their shutters and their eyes will pop!
The wheels are yeller, the upholstery's brown,
The dashboard's genuine leather,
With isinglass curtains y' can roll right down,
In case there's a change in the weather.
Two bright sidelight's winkin' and blinkin',
Ain't no finer rig I'm a-thinkin'
You c'n keep your rig if you're thinkin' 'at I'd keer to swap
Fer that shiny, little surrey with the fringe on the top!