Two weeks ago on a Wednesday evening I went to see Stevie Nicks and Rod Stewart at Madison Square Garden.
I'm already having trouble remembering the rock concert, at least the second half is fading. Luckily I took a few pictures. Normally I would not post such low quality photos but seeing Stevie Nicks again was very special to me and I'd like to be able to look back at this someday to remember. These were mostly taken from the last floor row "Yay Last Row!" of the "Worlds Most Famous Arena" and taken with a pocket camera that only goes out to 5X.
There was far more light on the stage for Rod Stewart so the photos do get a little better in the end. So I don't feel so guilty perhaps I can throw in some tips on getting the shot in a big arena on concert night, add a little Fleetwood Mac political trivia and some Stevie Nicks memories to spice things up.
First the trivial pursuit. You probably remember that Fleetwood Mac was very big with Bill Clinton. The Big man,
who knows a thing or two about making music
, picked
Don't Stop
as in "thinking about tomorrow" for the flight song of the 1992 presidential campaign. On January 19, 1993 President Clinton even persuaded the then-disbanded group
to reform and perform Don't Stop
at the inaugural ball. Bill Clinton was very fond of Fleetwood Mac both coming and going. At the 2000 Democratic National Convention, President Clinton ended his speech by saying, "Keep putting people first. Keep building those bridges. And don't stop thinking about tomorrow!" As he finished speaking
Don't Stop
began playing over the loudspeakers.
For younger readers and Baby Boomers who were engaged elsewhere, let me further set the stage. On the long list of Fleetwood Mac accomplishments they had only had one chart topping single. The number one hit from back in 1977 was written and sang by Stevie Nicks. At the time
Dreams
was released Stevie Nicks was still quite young but
those haunting lyrics
seemed like the voice of an old soul.
Now here I go again, I see, the crystal visions
I keep my visions to myself

It's only me
Who wants to wrap around your dreams and...
Have you any dreams you'd like to sell?
Dreams of loneliness...

Like a heartbeat drives you mad...
In the stillness of remembering
What you had
And what you lost...

What you had...
Ooh, what you lost
Stevie Nicks was already far and away the star of the band because of a song she sang
"about an old Welsh witch."
That summer when
Dreams
was being played everywhere there was already "Rumours" that Stevie Nicks was a witch and the cover art captured the imagination of the masses, adding graceful ballerina to the mix.
The national fascination with Stevie Nicks was not merely visual. Yes she was young and beautiful, her twirling on MTV and on the the stage for those who got to see her in concert did sort of make her the Suzanne Farrell of Rock n' Roll and Stevie did sort of become American Royalty. Back in 1977 Stevie Nicks became a fashion statement and it seemed all the women my age wanted to be her while most of the young men wanted to be with her but it was more than just good looks and great sounds that captured America.
"The music there was hauntingly familiar."
Just about everyone, man or woman, saw or hoped they saw a little Stevie Nicks mystery in themselves. Perhaps her mystical ways and enchanting songs inspired a generation.
But does she still have it?
I think so and since I've seen every one of her solo North American tours, even flew out to Vegas in 2005 when the tour started and ended in the Celine Dion Theater, I'm probably a pretty good but hardly objective judge. So you make the call, here's a comparison of
Stand Back.
It would not be fair to use
the video that had me screaming "I want my MTV!"
Here is
the live video from 1983
and this
looks like Red Rock back in 1986.
Back with the band to do
Stand Back live in 1987.
Then there was some tough years,
playing Woodstock back in 1998
comparing that with the comeback,
Rocking the Plaza in 2005.
This is today;
By now I sound like a groupie but while "I need a little sympathy" give me some credit. "Mod Rod" may have the soul in the "Heart and Soul" tour but Stevie Nicks, she's the heart. Still as much as I love the sound and the fond memories, I'll cherish these images. I was very surprised at how good they came out. I didn't have my good camera but that dosen't stop me from messing with the photos later on, zoomed out.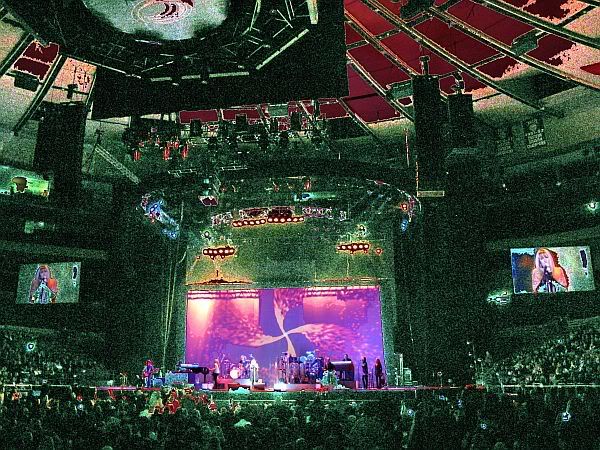 Stevie Nicks coming out onto the stage, zoomed in.
Pushing the optical zoom in this encore shot. Stevie Nicks was singing "Rock and Roll" in this shot, as in Led Zep's
"It's been a long time, been a long time, been a long lonely, lonely, lonely, lonely, lonely time. Yes it has."
The guy in the background had me thinking that
John Bonham had come back to life.
That was pretty amazing!
This is my favorite shot of the evening, really just dumb luck and probably meaningless to many. It was not actually taken during
Talk To Me.
a song she did not do this time. But I was going for the shot on the video wall of Stevie Nicks dancing in that room
in the Talk to Me video
and instead caught a transition that also reminded me of the of the
"Stand Back" video.
"Did she make you cry, make you break down, shatter your illusions of love."
Someone in the audience
caught Gold Dust Womanon video.
I've seen Stevie Nicks preform "Gold Dust Woman" several times but this time, because of a fuzzy photo and a shaky video, I'm going to remember how it looked.
Another bad photo except that, because of the White Winged Dove, I really like it.
"He was no more... than a baby then. Well he... seemed broken hearted...Something within him. But the moment... that I first laid...Eyes... on... him... all alone...On the edge of... seventeen."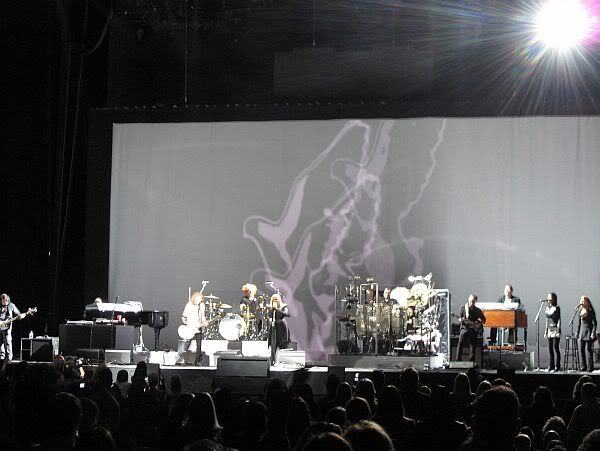 Two more transition shots of the video wall. From this;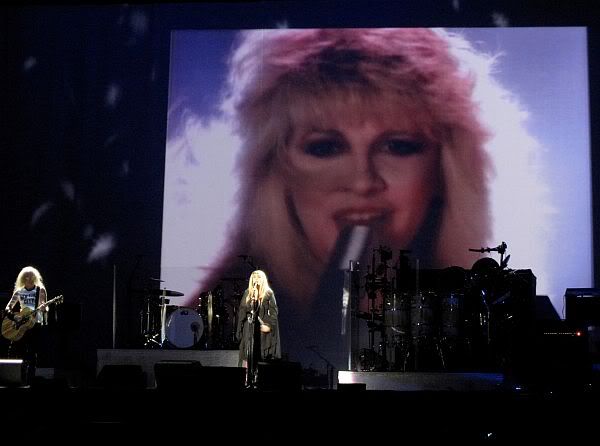 To this, brings back some old visuals that seem "hauntingly familiar."
Rhiannon rings like a bell through the night. And wouldn't you love to love her?
Takes through the sky like a bird in flight. And who will be her lover?
All your life you've never seen a woman. Taken by the wind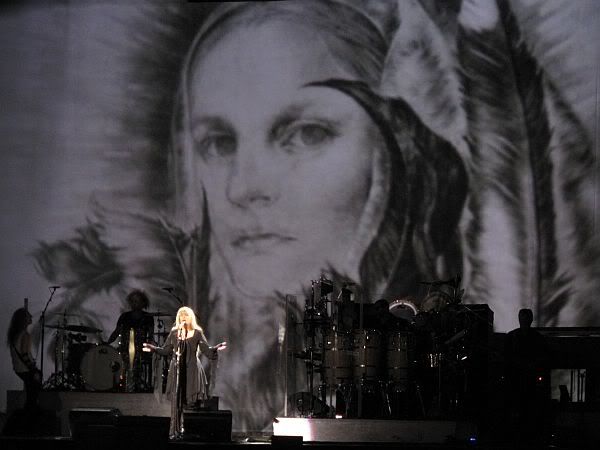 Would you stay if she promised you Heaven? Will you ever win?
"This one is for you Daddy"
Those words
"Oh mirror in the sky, what is love? Can the child within my heart rise above? And can I sail through the changing ocean tides can I handle the seasons of my life?"
All of the transition shots came from the song
Landslide.
Jess Nicks, Stevie Nicks' father, died on Aug. 10 of 2005 but Stevie said she "Could not turn around and look at the photos." There were family pictures on the video wall as she sang
Landslide.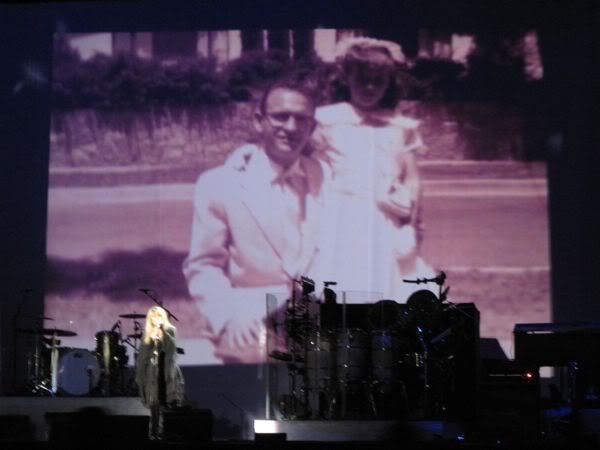 I've been afraid of changing
'Cause I, I've built my life around you
But time makes you bolder
Children get older
I'm getting older too oh yes
I'm getting older too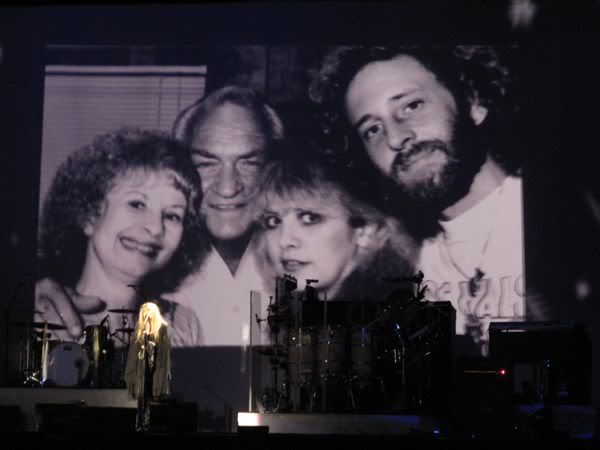 So, take this love, take it down
Oh if you climb a mountain and you turn around
If you see my reflection in the snow covered hills
Well the landslide will bring you down, down
And if you see my reflection in the snow covered hills
Hopefully not the final bow for Stevie Nicks that I will see.
Show is over, time to take another look at the Garden and meet some friends upstairs.
But first I promised some hints about getting pretty good arena shots with a point and shoot. The problem with getting good photos when shooting in auto is that there is far to much light on the stars and the meter reads the entire stage. There are several methods of overcoming this but the least tedious is once you zoom in all the way, zoom in again with the optical zoom and press down half way to lock in the focus and exposure. With the button still pressed down half way, zoom back out to the composition you want and click.
I was walking around when Rod came on.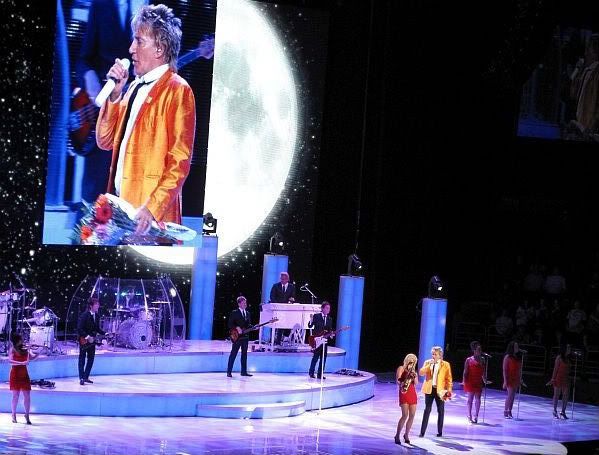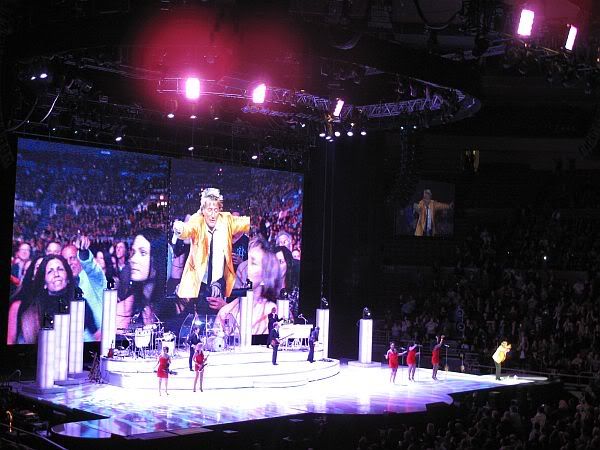 What, do you think I'm going to turn this into a Rod Stewart diary now? Give me a break. But that is one good looking arena.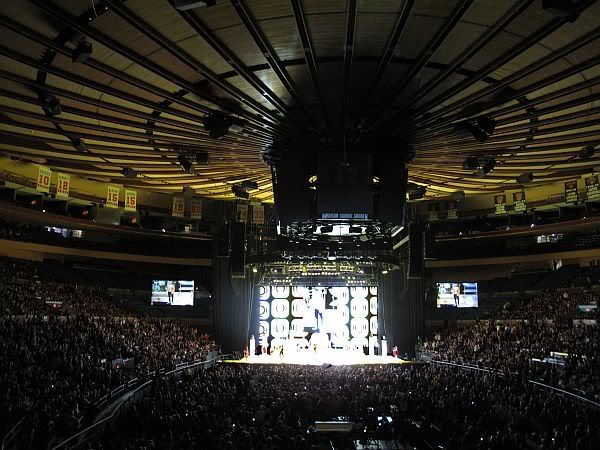 I'm kidding Rod. He is a pop music icon, a great performer and a living legend. Just ask him and he'll tell you himself.
Still kidding, I have no clue what Rod's view of himself are and many of his songs take me back.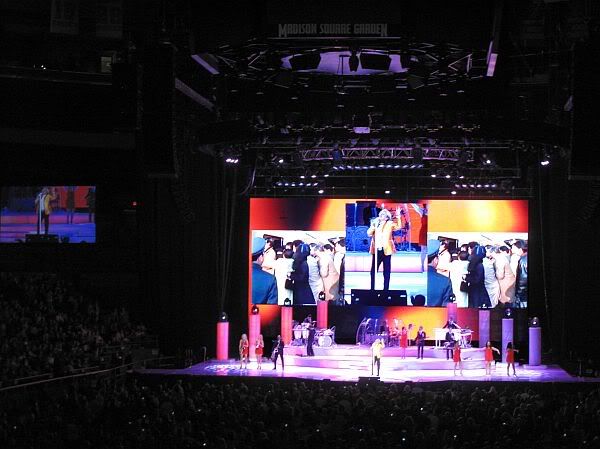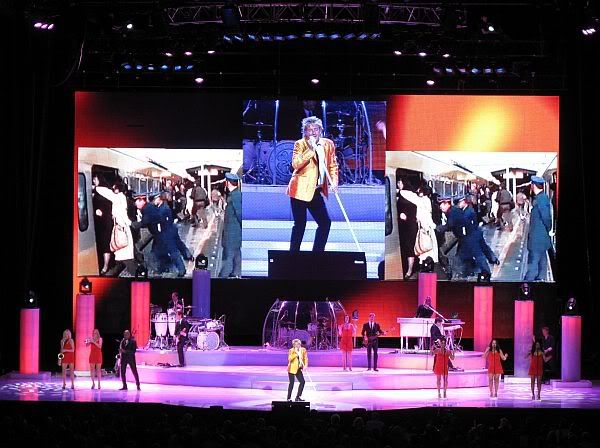 Rod also had the good sense to bring Stevie Nicks out for two duets. Note to Rod, the woman has a long list of impressive duets. What they were doing
Passion
together for was beyond me.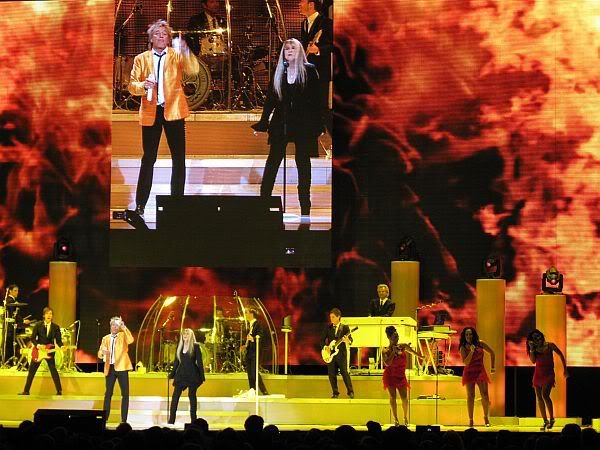 But he gets credit for
Leather and Lace.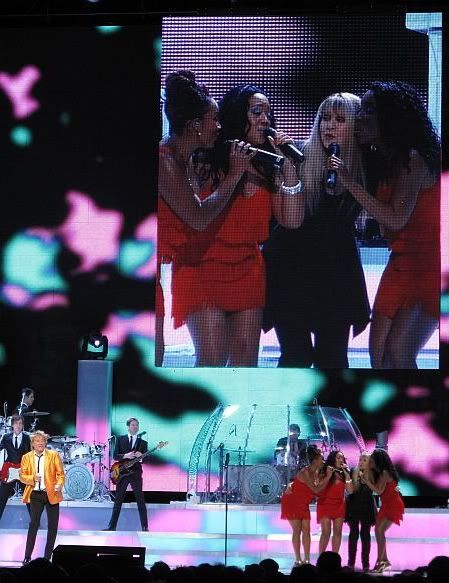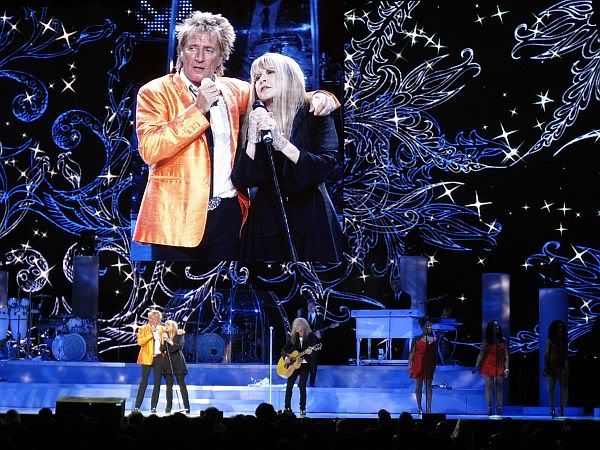 The
old crooner got good review
and he deserved it. Well
the NYT wasn't too happy
but you know how they get.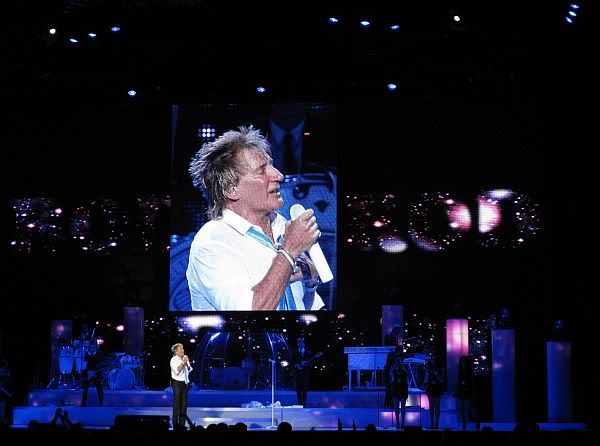 Say goodnight Rod.
I hope you enjoyed my views.