I going to start off with a video not from the first half of 2010 but one I made recently. A video from December 8, 2010 because the message of the people has always been so moving for me.
Now some photos of the year in chronological order from a student of photography looking for the good side.
This first photo was not actually taken this year but it is from my first diary of 2010,
The Sad End of A Central Park Landmark.
It is the Crystal Room at The Tavern on the Green. A photo that is special to me because now all the crystal has been auctioned off, the windows have been smashed, the floorboards have been pulled up and the walls have been torn down. This dream of Warner LeRoy has gone the way of "Give Peace a Chance." The Crystal Room where it was once a poorly kept secret that their most famous steady customers were John, Yoko and Sean can still be seen in many movies and remembered for many a brunch but it is no more.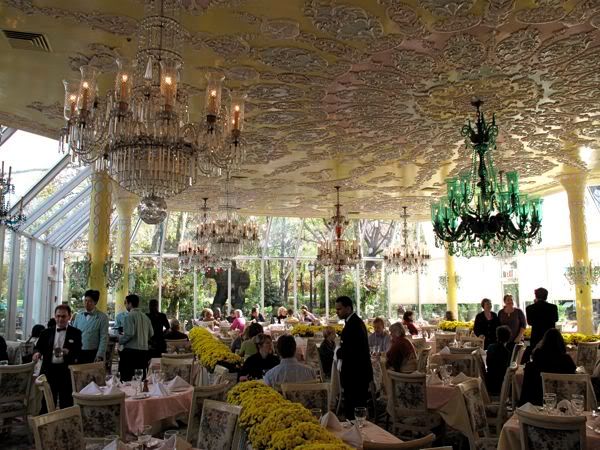 January 8th, the first snow day of the year in Central Park. So cold and quiet, clop clop and saxophone, while it seemed so odd to see the Imagine mosaic without any people.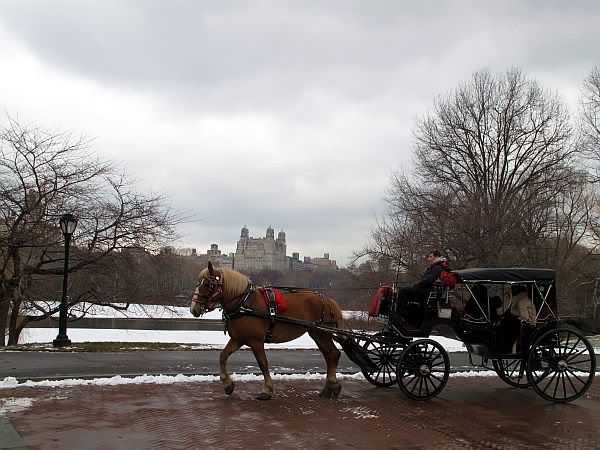 For all the white of snow, the year began with a few rich colorful sunsets, the view
on January 23rd was especially good.
And this view on a January day did not seem cold at all from my living room.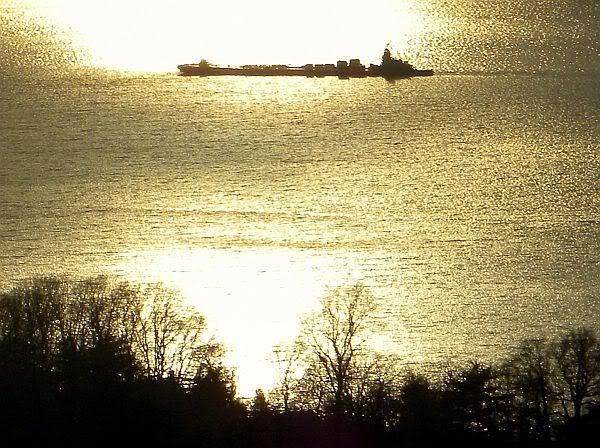 But Baby it's cold outside.
Winter in The Big Apple.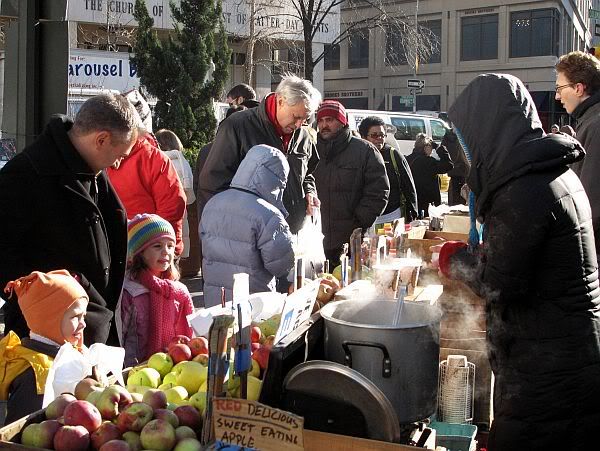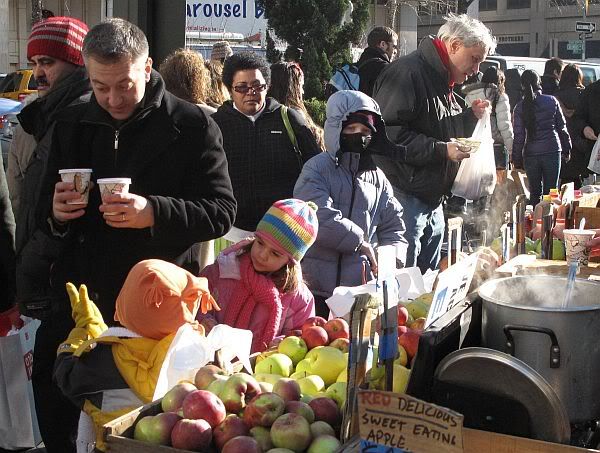 I took many January trips to the Van Cortlandt Lake in the Bronx because it is the one time of year that I could capture a sunset across the lake with trees instead of buildings in the background. I don't think I got one that was good enough this year but there were a few good photos from those trips.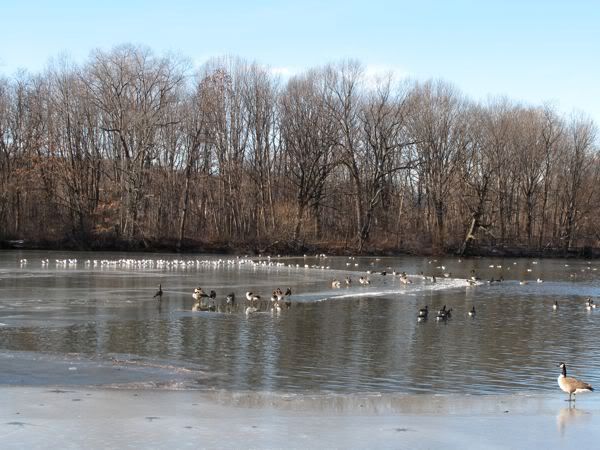 I took one of my favorite photos of the year there in the late afternoon sun of January. I've shown it several times, first in
A Day in the Life: A Winter Nature Cartoon
and just last week in
Snow Day Photos for the Holiday Spirit.
A favorite because I love how the ice went so blue and contrasted with the forest.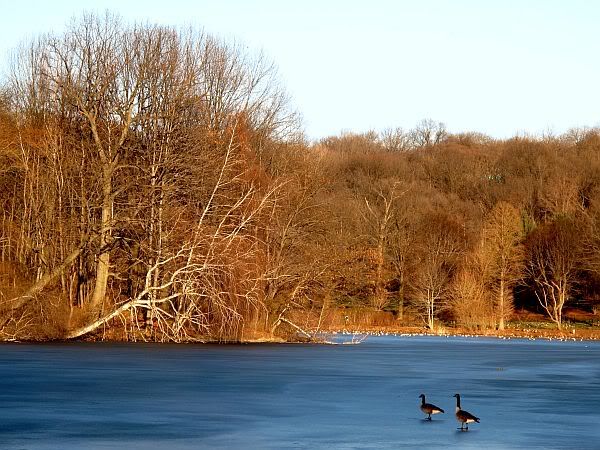 I said goodbye to January greeting two friends with the setting sun to my back.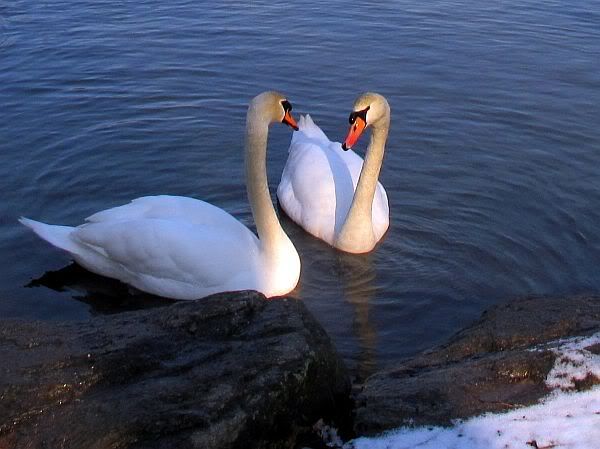 February began for me with a trip to the Bronx Zoo. I was hoping to promote winter visits to the zoo so wrote a diary called
Friday Evening Photoblogging: Winter in the Zoo, Pooties and Featherbutts Too!
There are plenty of places to warm up indoors and when the humans are rare, the gibbons take notice.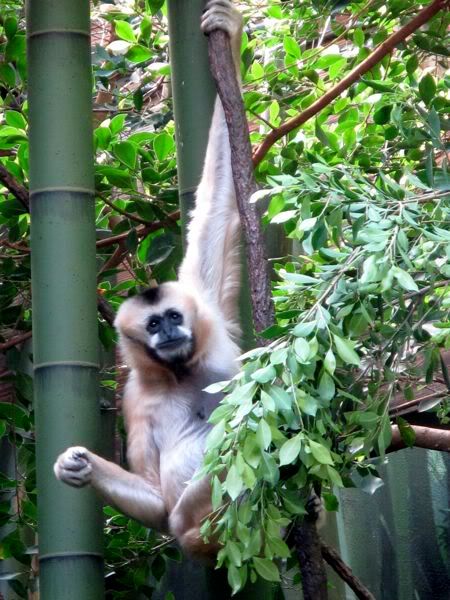 Notice the Snow Leopard noticing me.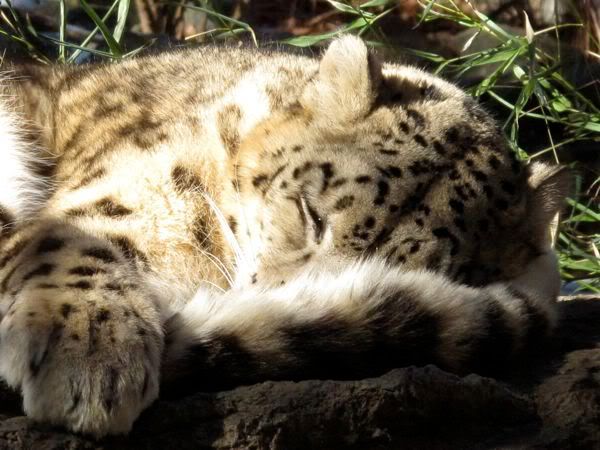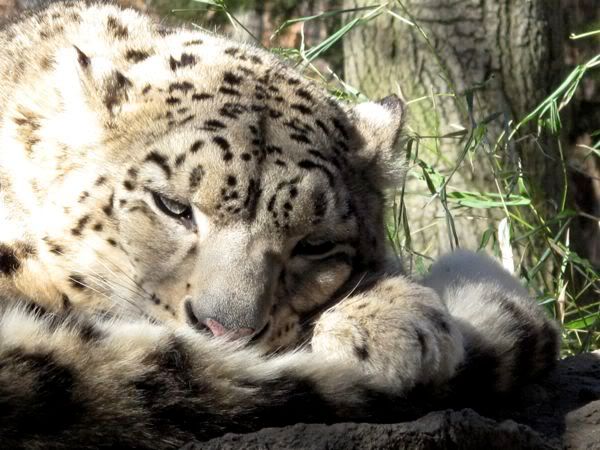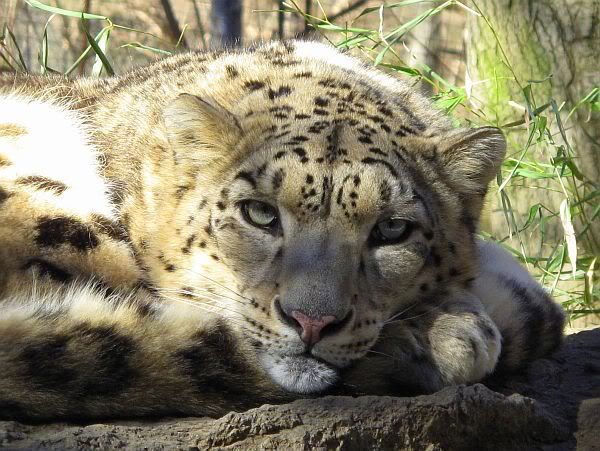 But my favorite from that day was pretending I was on a solo safari.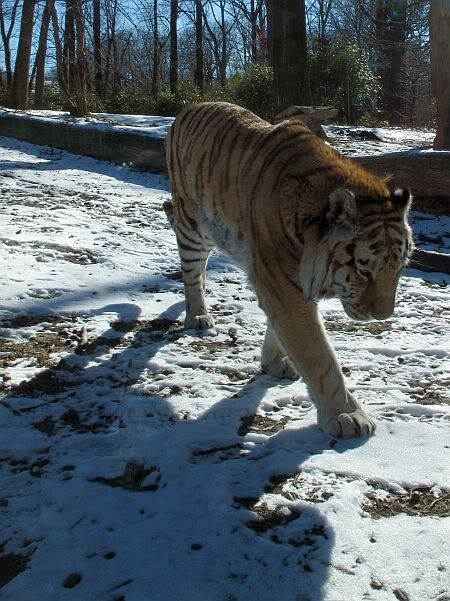 You are probably sick of seeing this third time posted photo. It was both in
Friday Evening Photoblogging: Snow Day Edition
and
Snow Day Photos for the Holiday Spirit
but it is a moment I really enjoyed.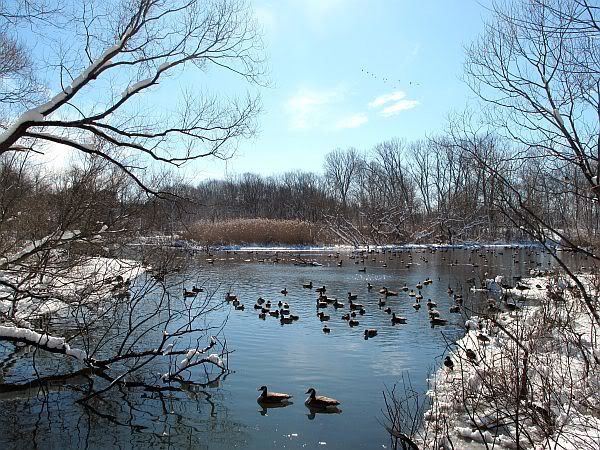 Walking in a Winter Wonderland.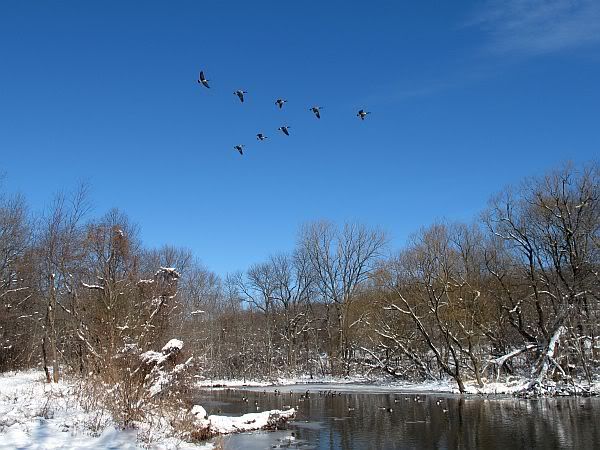 There was another snowstorm day for me. It was
a snow day in Ft.Tryon Park and the Cloisters
and I had a real good time.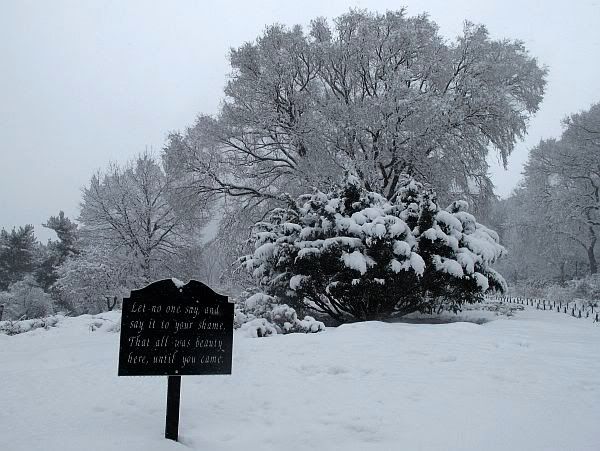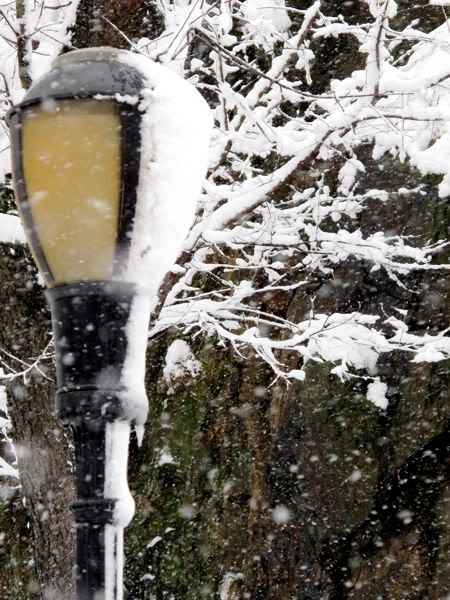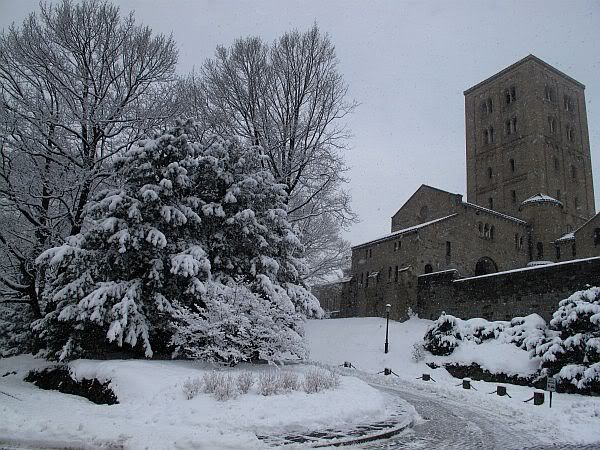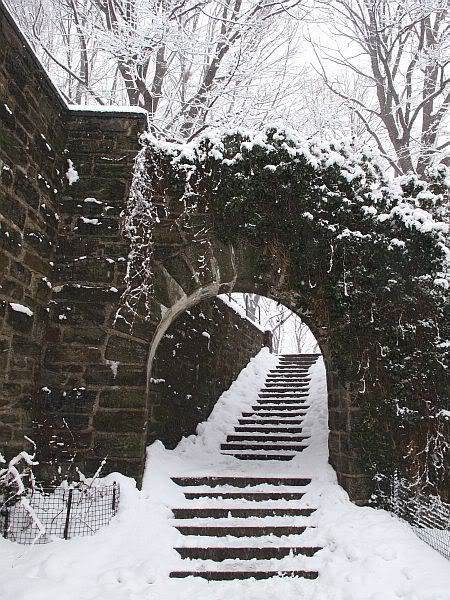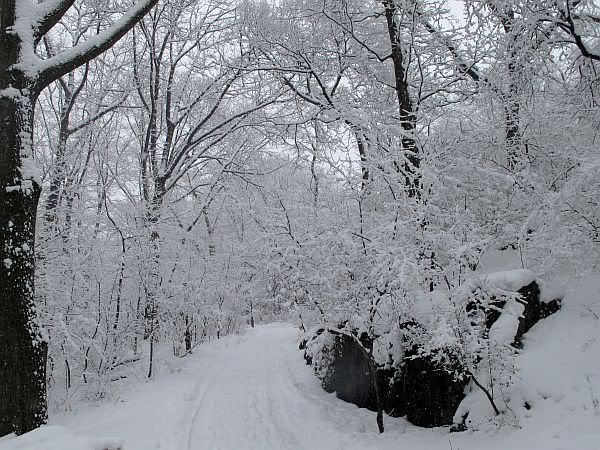 February is also a good month to visit the Cloister's Big Sister, it's so warm in the
Metropolitan Museum of Art.
Sort of like a beautiful shopping mall when nothing is for sale, you can't touch the merchandise and you always go home to have colorful dreams.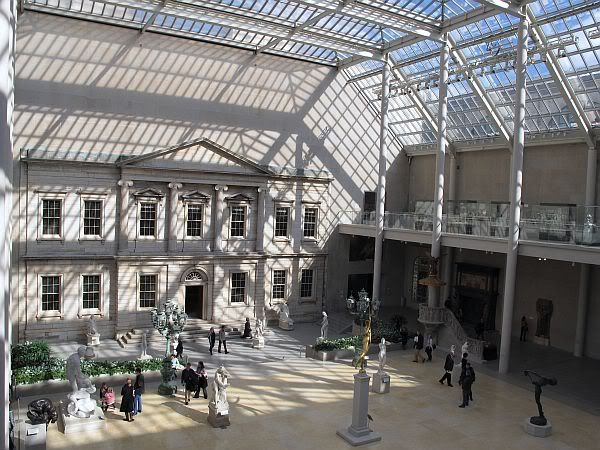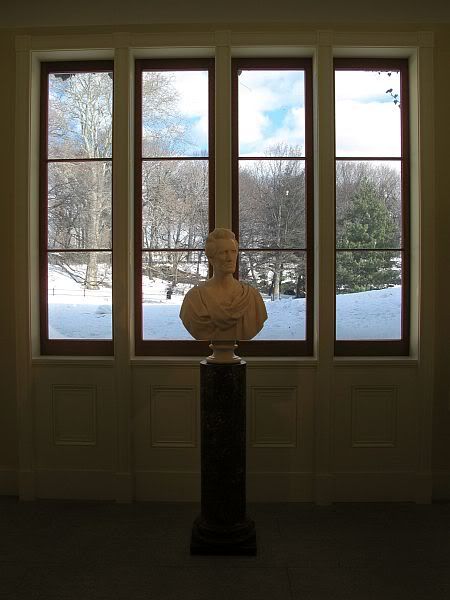 You can still see the "View of Oyster Bay" in the American Court but New Yorkers anxiously await the reopening of the American galleries. The word on the street is that American art will have ended at the time of the Ash Can School movement. That's right, even art has gone global.
February ended for me the same way every February does, warming my cold bones
in a sea of orchids.
I never got around to documenting my favorite sign of early spring this year. The New York Botanical Gardens Orchid Show, Cuba in Flower got places aside after
a cold response to Brazilian Modern.
I was thinking that if up and coming Brazil didn't cut it, than the next diary would be a Cuban Orchid Crisis. It's not easy for the Progressive Orchid, I think even John Aravosis gave up but "Cuba in Flower" deserves a look so here's an overview and a few you missed.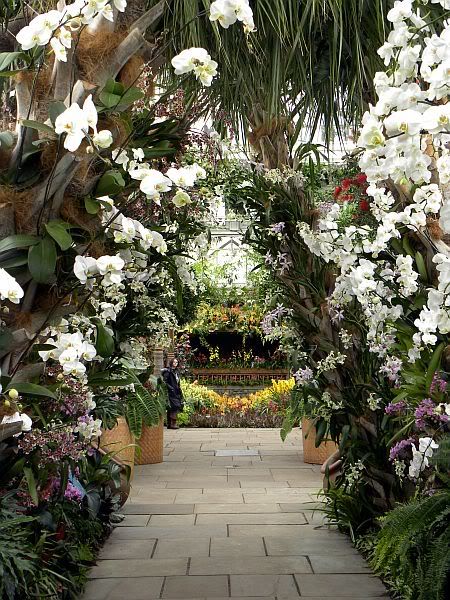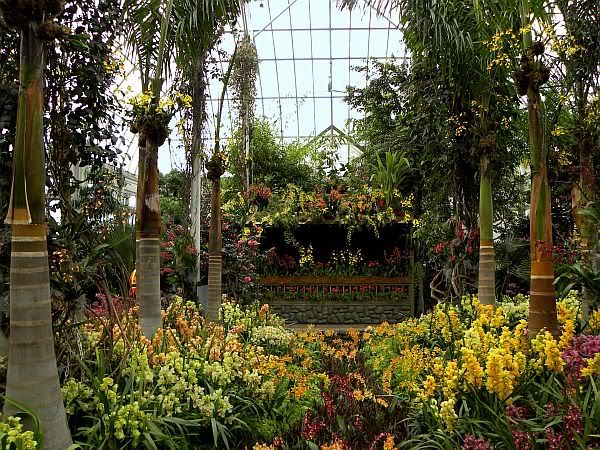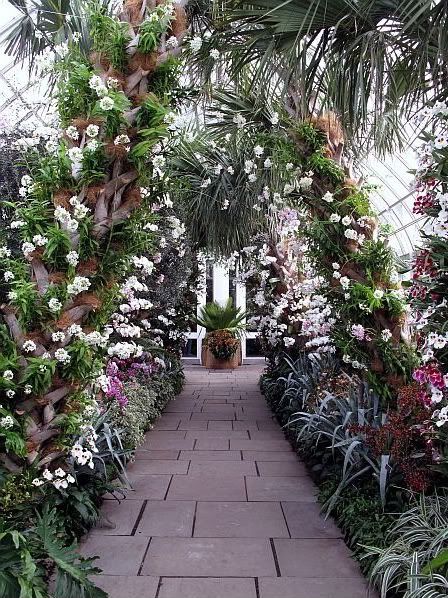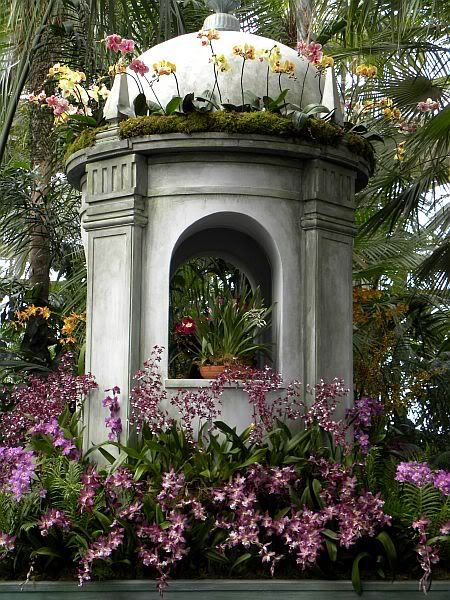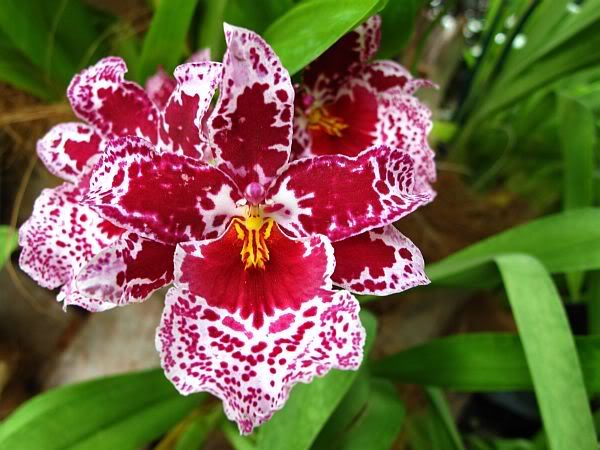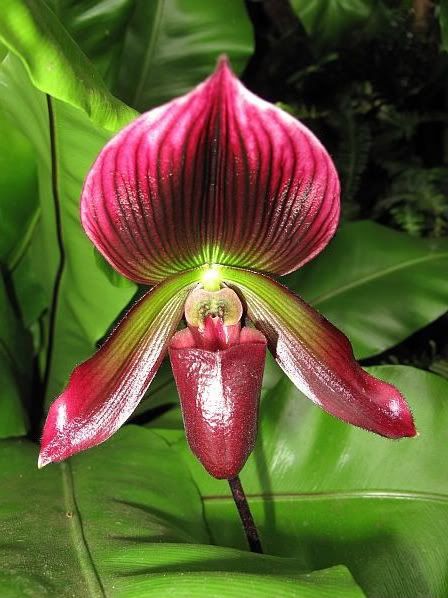 March roared in and I began looking at photography a little differently. When I first started taking pictures as a hobby I tried too stay away from getting creative and just focused on copying the people who knew what they were doing, It was a lesson I learned long ago as a young cabinetmaker. My time as the photographer's apprentice had not yet ended but I reached a point where copying the framing of great advertising photographer and directors of photography had become second nature for me. I figured I finally had that framing part down but I was still not ready to find the art in photography. As spring arrived I began taking the time to really look and concentrate on the light and shadows. Just one for starters, the subway station at 72nd Street and Broadway.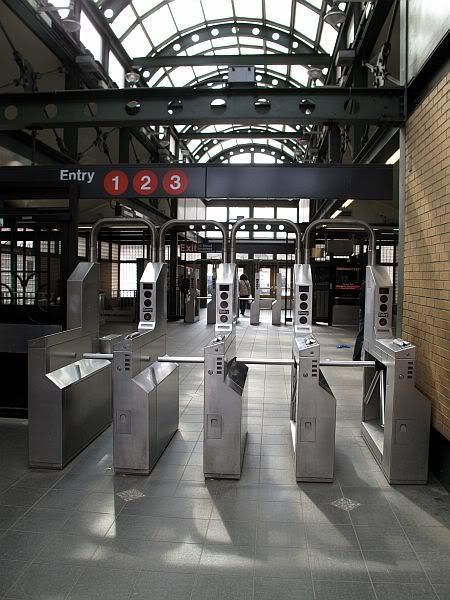 Ah, the first flower of the year. Marsh Marigold from a nature hike in Van Cortlandt Park on March ninth.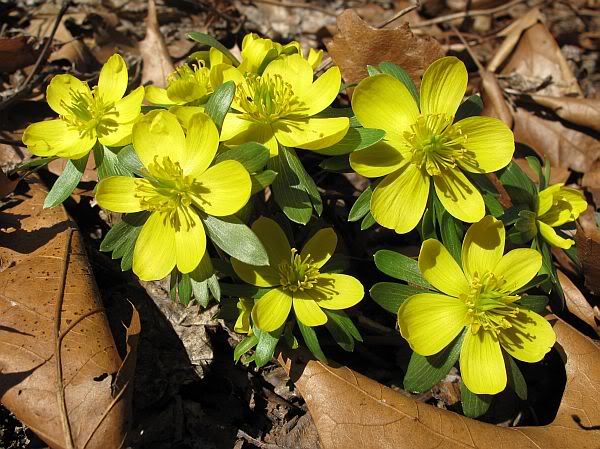 In March I went to the movies and came home to experiment with my first text free diary, things were getting
Curiouser and Curiouser.
No but seriously, on March 25th I met Firefighter James M. Sorokac for the first time. He is the keeper of "The Last Alarm" and a member of the of the FDNY ceremonial unit. After 9-11 his face his face became far too familiar to me. I was there
to write a memorial of the event.
We met on a morning where he would ring that bell 146 times to remember those 146 victims of Triangle Factory Fire, remembering them ninety-nine years later.
The day would turn brighter and I would have a great New York encounter. After snapping a shot outside of the best pastrami on the planet I muttered under my breath "Shit." My soon to become model said "I'm sorry" thinking I was upset because he got in the shot. After I explained I was actually upset because I had cut off the puppy's feet, he modeled for a few more shots. Just your typical New Yorker.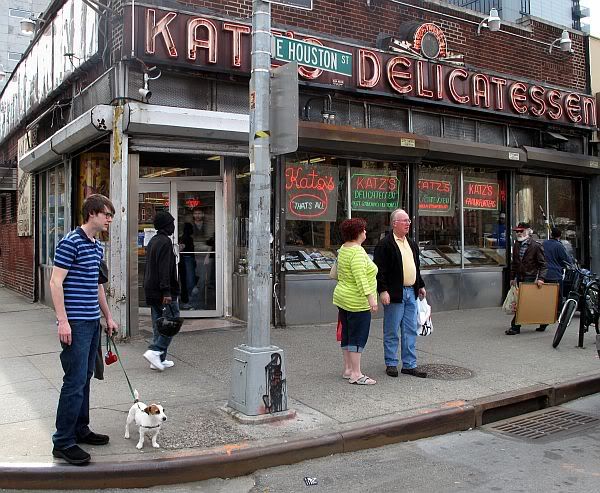 I took many photos that day. Here's a sample.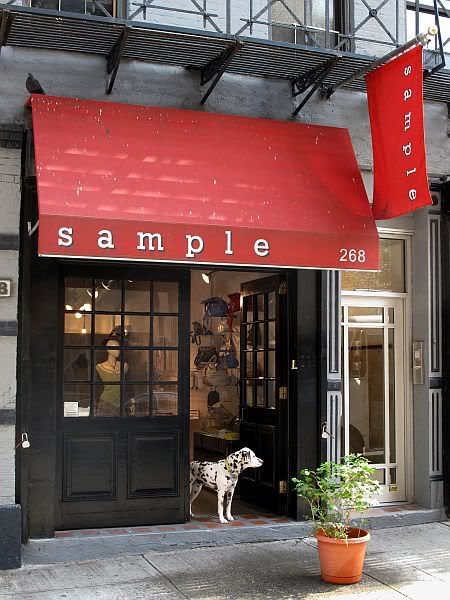 And here is another.
It would take me five months to post a diary with those photos. It didn't slip my mind for five months, I was actually writing
Friday Evening Photo Blogging: Street Photography Edition
for five months. It was a diary intended to put a little Jacob Riis in your camera and progress in your pictures. Totally forgotten now but you know the old New York saying
"What are you gonna do?"
Moving right along, the view of the Cloisters at sunset from Dyckman Street.
Palm Sunday morning in Hell's Kitchen.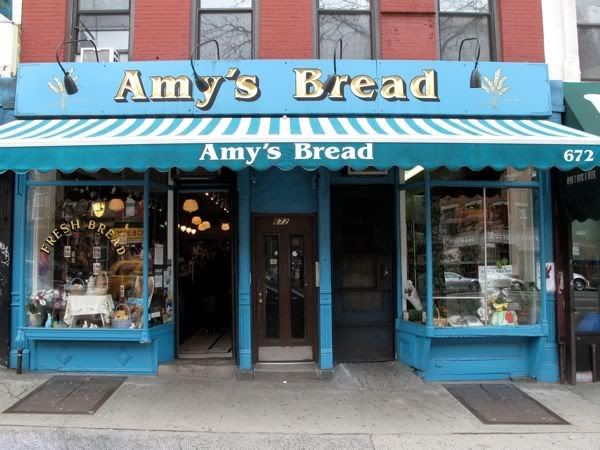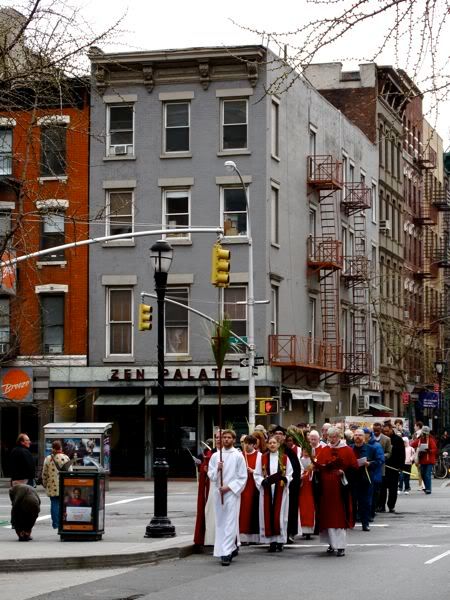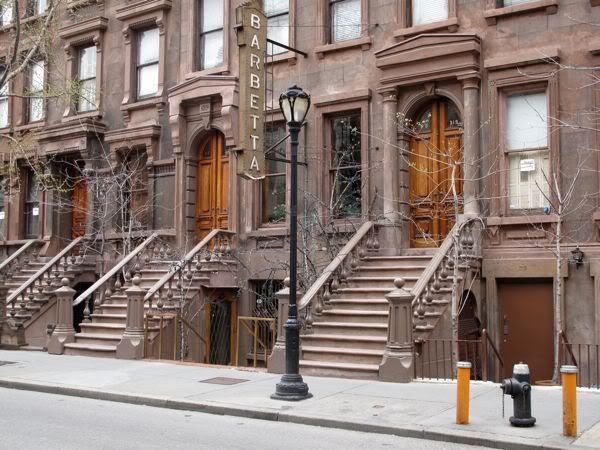 The Easter sunset on the Garden State Parkway.
The view on the day after.
The line up between steeple and sun, it happens around April 6th from my window.
April showers as the completion of the Lincoln Center face lift came to a close. They say it was "looking a bit long in the tooth." I say "but wait I was ten when Anthony and Cleopatra was all the rage at the new Metropolitan Opera."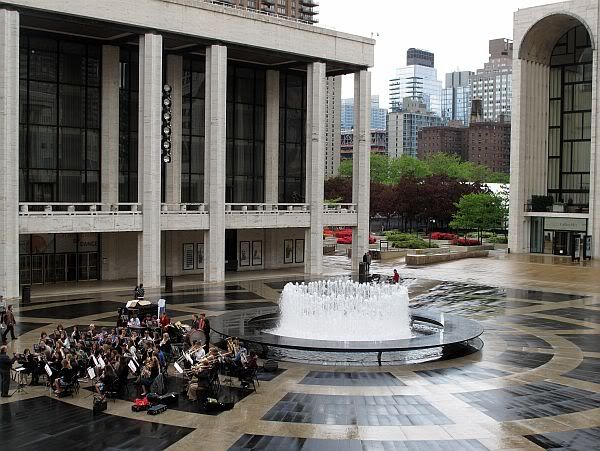 And April flower as spring was in the air.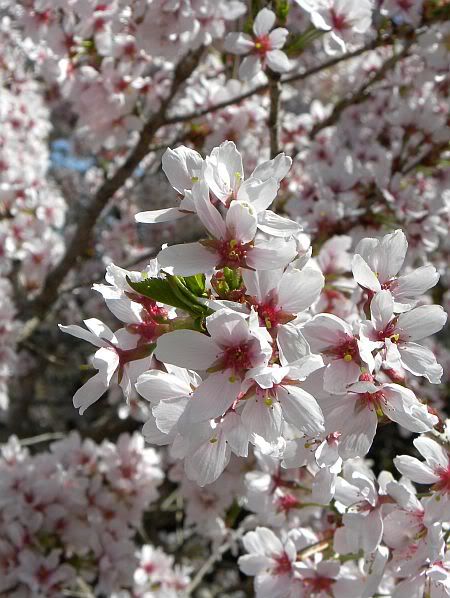 Oh well, off with the old and on with the new.
The Earth Day sunrise of 2010. Do you remember when PBS showed
Earth Days
on American Experience? It opened with all the presidents over the years talking the talk and then went to the conservationist. Watching that sunrise I think it was Stewart Udall who gave credit to Ronald Reagan for the line ringing in my ears
"We've lost thirty years."
And the words that should have gone with the view.
Those who contemplate the beauty of the earth find reserves of strength that will endure as long as life last...There is something infinitely healing in the repeated refrains of nature, the assurance that dawn comes after night and spring after winter.
---Rachel Carson
On April 29th I participated in a
March on Wall St.
It was a good day for the little bit of Union pride that we have left. The day was short on politicians but there was plenty of people there. I heard Richard Trumka give a speech that had given up on elected officials and he was all about reminding bankers that they need customers to survive. I had long ago given up on the Daily Kos sales pitch that when the Republicans are in charge everything is the Republican's fault and when the Democrats are in charge everything is the Republican's fault. Even if it is true, what's the use of getting involved if the Republicans are always in charge? Newer better Democrats when they just keep getting more and more corporate each year? So when I heard Richard Trumka asking the bankers to regulate themselves it sounded to me like there would be a shellacking just around the corner. Like most voters, I didn't much care either.
This year it was not until May that I took you to my favorite place, the New York Botanical Garden.
Friday Evening Photo Blogging: Flower Edition
was a day late but not a peony shy.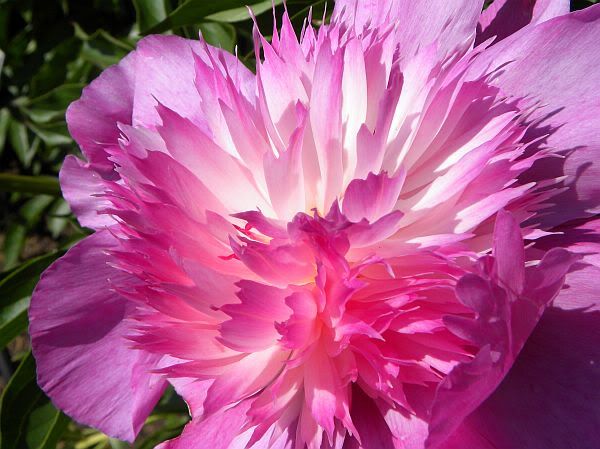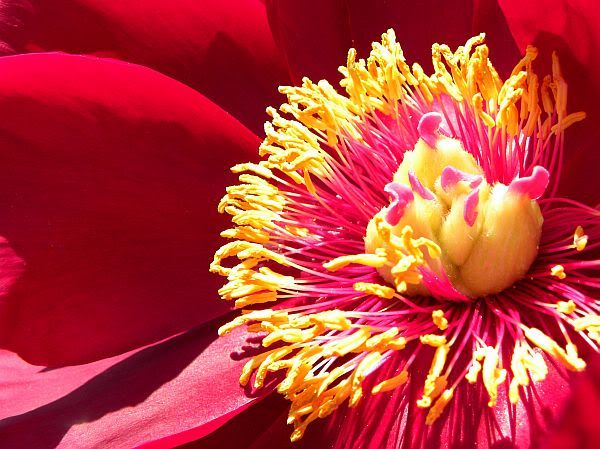 But I did try to tell a garden history that is much closer to my Bronx home in
Friday Evening Photo Blogging: Wave Hill Edition.
Little did I know that I would be standing in this same place when the Riverdale Tornado hit.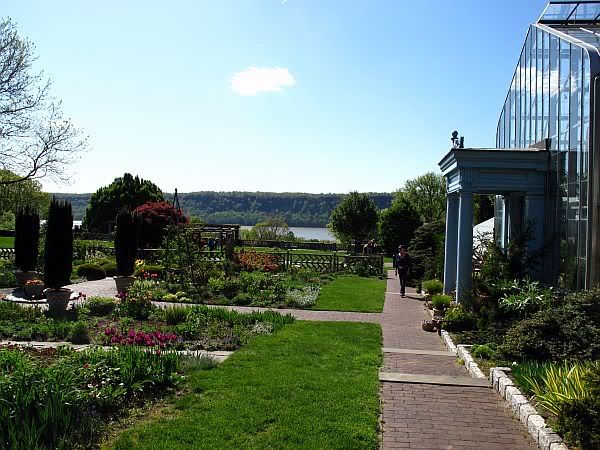 On
May 20th I took you for a celebration walk
along New York's newest thoroughfare, bicycles, skaters, walkers and joggers only.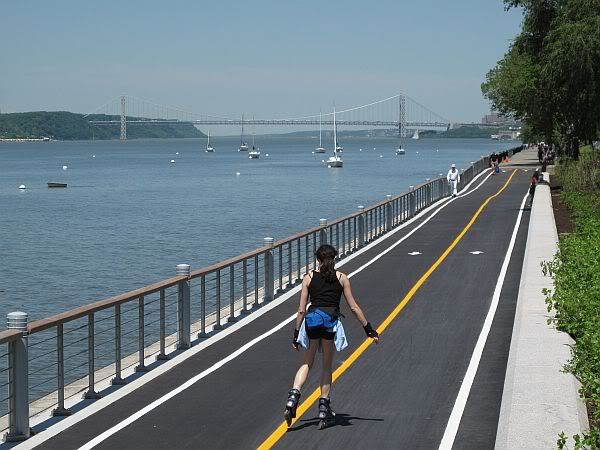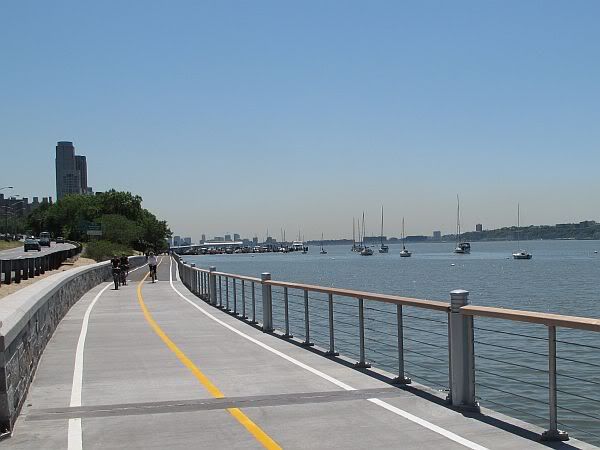 The path along the Hudson was finally finished and to mark the occasion I got a bicycle. It's a Bianchi Volpe, that's Italian for Vixen. I might be better suited for a bicycle called an Orso but I got myself a Vixen.
I took a second trip to the Bronx Zoo and tried to introduce you to Nala, Adamma and Shani in
Friday Evening Photo Blogging: Lion Cubs Today!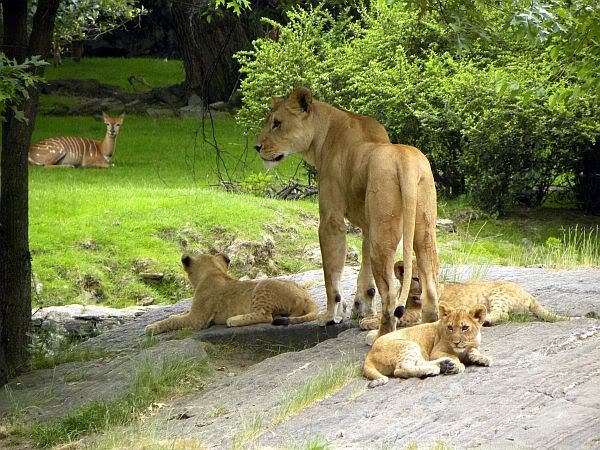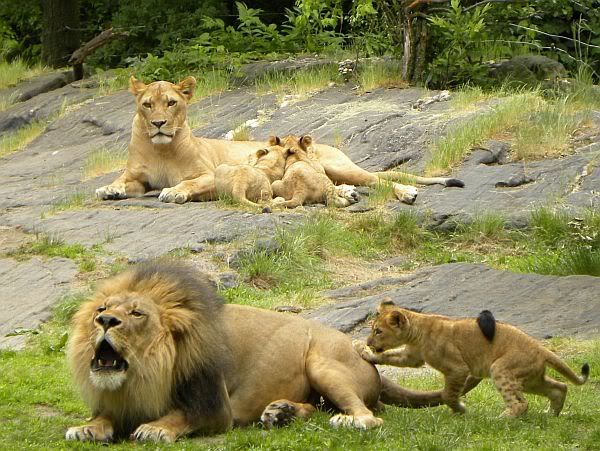 I guess I marked the end of the first half of 2010 with
a Solstice Sunset in Ft Tryon Park.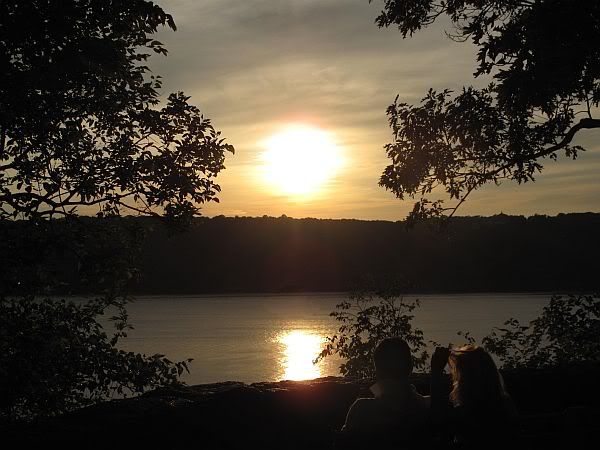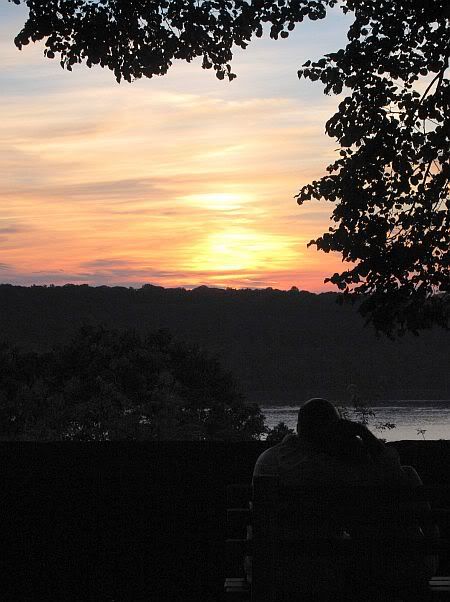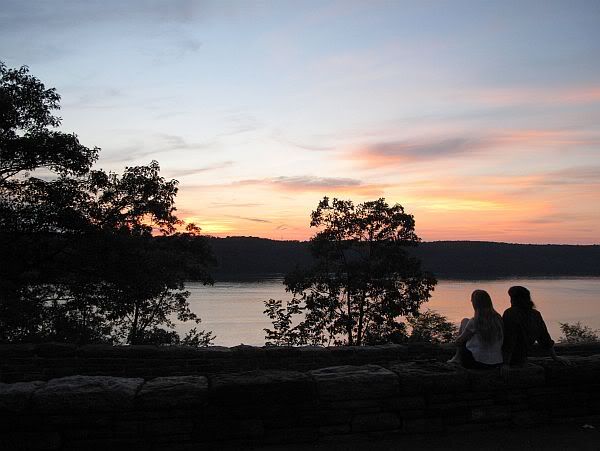 Well that's my first half of 2010. I hope you enjoyed the view.