Would you like to enjoy some pocket camera pictures from a week in Chelsea? I would love to be a professional photographer but I'm not. I just like to take pictures. So this is a little about pastime photography or capturing images to remember where you've been.
Perhaps one or two have some impact.
But mostly these photos are just pictures taken walking to and from the subway during a gig I had last week at the Chelsea Riverside Park and some walking around views during lunch.
New York is a walking town and there is always much to see.
For the past six years it has been a joy for me to come home and turn on the computer, upload some snapshots from the day and see on the big computer screen if I captured any keepers. Perhaps if I was younger and had sharper vision the upload would not be so rewarding but I don't and even with reading glasses, I can't see much on a three inch screen. With a point and shoot the computer screen always seemed to be full of surprises.
Except for the fact that I own some very good point and shoots, I probably would have given up on them when I purchased a Nikon D-7000. Ever since getting a DSLR and looking through that big viewfinder that makes for far better composition skills and seeing such high quality photos when I get home, I still missed those surprises. The little point and shoots, besides being able to fit in a pocket and go anywhere, still offer that type of upload excitement that has been lost after the upgrade.
So I walk to and from work with my trusty Canon G-10 and see what I can find. When I get home there is almost always a pleasant surprise to be found sitting on my couch between sunset shots with the big DSLR that rarely gets out of the apartment.
The photo above is early Monday morning, a man and his laundry. Except for the background, not a very impressive photo but
because of the background
there is a bit of Arthur C. Clarke, Charles Bukowski, Leonard Cohen, Bob Dylan, Allen Ginsberg, Janis Joplin, Robert Mapplethorpe, Iggy Pop, Dylan Thomas, Virgil Thomson, Patti Smith and Larry Rivers in the shot. I watched
Cinema Verite
last week so there was a little Lance Loud in the view and I'm just the right age that I can't pass the Chelsea Hotel without thinking about Nancy Spungen.
A foggy morning at the Chelsea Pier. Notice the ghostly water taxi bringing commuters from Hoboken and Jersey City to Manhattan. An old square rigger is docked at a place where rich Manhattanites stack themselves up to fire golf balls at a worker driving a cart around trying to pick up the balls that missed him. It's class warfare I tell you.
Since my favorite photo in this diary is a picture of a dog, I'll offset that with the above photo for you pootie fans. You would think that with Chelsea being such a Democratic stronghold they would have named it "The Blue Cat" but what are you gonna do?
"Images à La Sauvette?"
Well perhaps not but I still love the above photo. The "fives" are because it is 555 West 23rd Street. With that being an area once identified with rough and tumble longshoremen and factory workers struggling to earn their daily bread, the view of a block filled with upscale condos is still a bit shocking.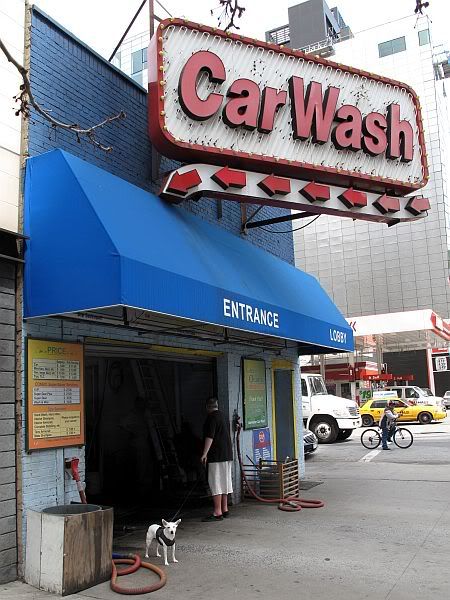 Chelsea is a neighborhood in transition. Expensive condos are squeezing out the more affordable housing but nowhere near as much as other areas below 96th Street. You can find things in Chelsea that are seldom seen on the island of Manhattan. Like the seldom needed car wash and gas station. By the way the price for the cheap stuff is $4.18 and if you have one of those expensive German cars it's $4.44!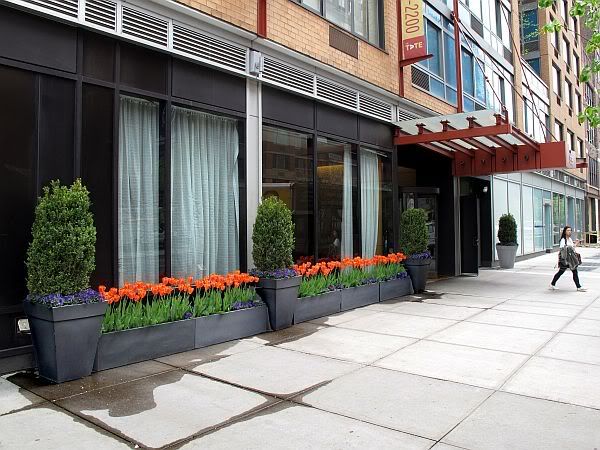 Who'd a thunk it? A display of tulips way out west on Twenty-third Street.
Perhaps this is a holdover for the Old West Chelsea days, one of those steam table bars that was filled with longshoremen and factory workers. Here is an interesting historical question
"Who was the Half King?"
It is
a literary bar
so maybe Dylan Thomas used to stop in when the walk from the Hotel Chelsea to
The White Horse Tavern
seemed too long. Or perhaps it is a newer bar and just made to look old. What do I know besides the fact that I was thrilled to capture two New York City Taxis in the reflection of the windows.
Or you can just walk around the corner from the Twenty-third Street tulips to the Terminal Hotel for a view that brings back some of the old western side of Chelsea. Watch out for the hole in the ground. With all the noses buried in smart phones these days those basement stairs could be terminal too.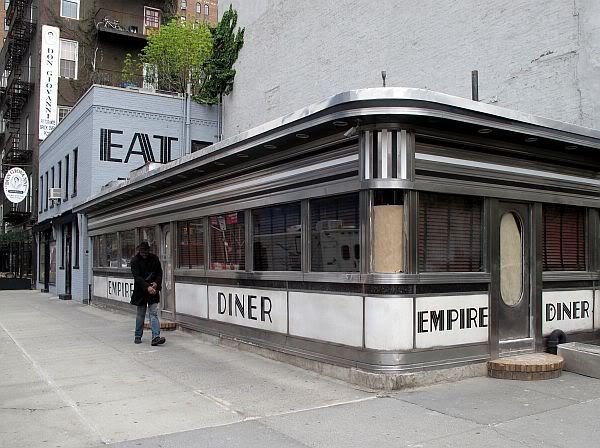 Sadly a Chelsea renaissance view that did not hold over. How embarrassing it is to be a New York City photo buff and not have a photo of
The Empire Diner
back when it was still in business. Had I made it to 210 Tenth Avenue just one year ago I could have gotten a photo of the mini Empire State Building that marked the corner of 22nd and 10th.
The renaissance, or perhaps gentrification on Tenth Ave. has been going on for many years. The Empire Diner is gone but now surrounded by upscale art galleries and more expensive eateries. One block west and you can still find a different sort of art in buildings that have not yet found the new way. A view that is sure to be gone soon.
I'll never make a good street photographer because I'm not intrusive enough. I do love to work the pedestrian kinetics into a picture. You know there is far more to the composition study of the photo buff that meets the eye. What a joy it is for me to just capture a moment and see what I would have missed when I get home. In that photo I would have missed "gramroom."
Sometimes I get intrusive. How could I not snap that photo? Both a rewarding pastime and a means of preventing memories from fading. Oh yea, back to Chelsea.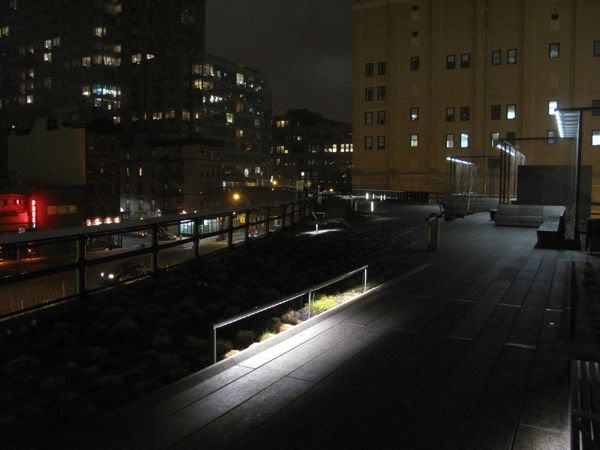 A dinner break in the rain and I finally had The Highline to myself. This month the extension to 30th Street will open and I guess I'll need to write
To Be Back On the High Line Again,
again.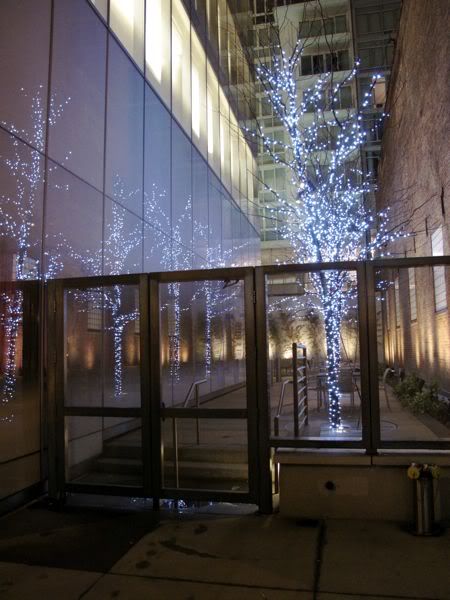 Here's a transition photo, an alley where Frank Gehry's IAC Building meets one of the old Chelsea factories. An expensive condo has already filled in the background.
You never know what you'll see in Chelsea. Take this real live "Purple People Eater" for instance. That is Chris Doleman playing football with the kids in the park.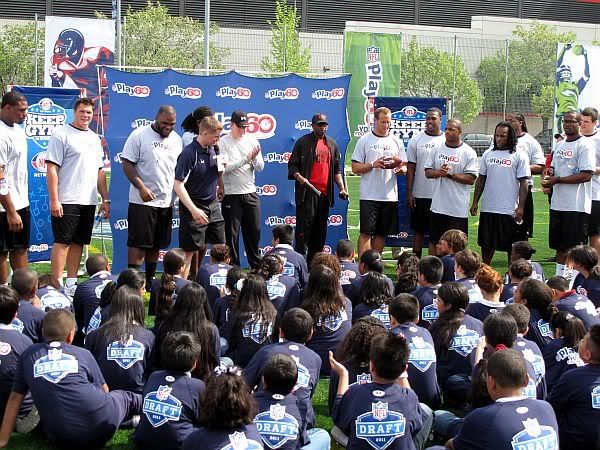 And this year's NFL Draft choices talking to the NYC school children. I won't be able to name them until the become NFL stars. Any college football fans here who want to take a stab?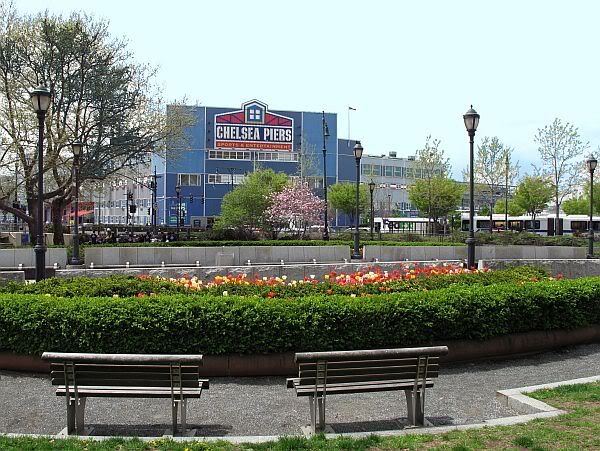 Well that's it, finishing off with a sporting view from a sporting week.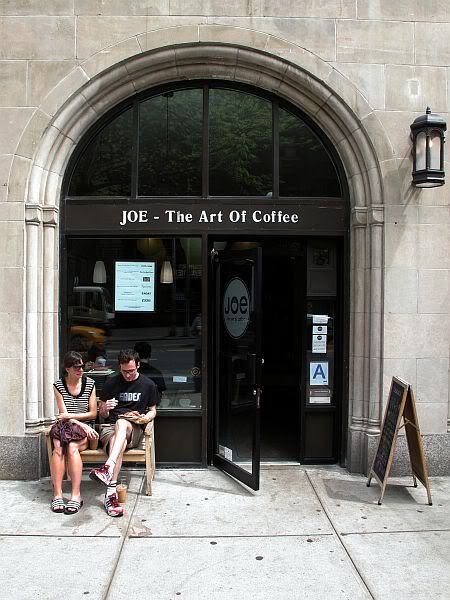 Need some coffee in Chelsea? I highly recommend
"Joe"
that can be
found in the London Terrace Apartments.
Or better yet, another look at the 23rd Street tulips. I like tulips.